Carry On:
A comic about hyenas – really!
Carry On for Wednesday, January 24, 2018: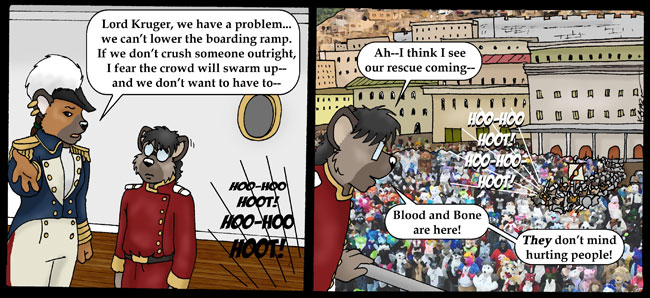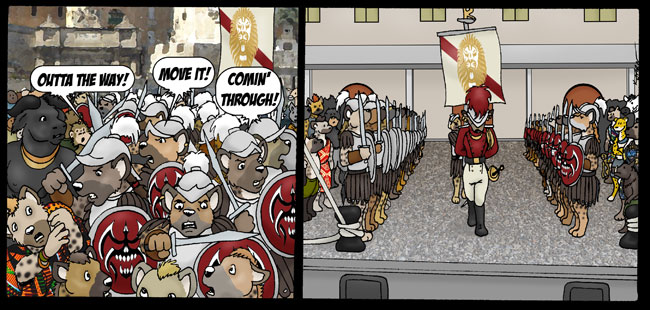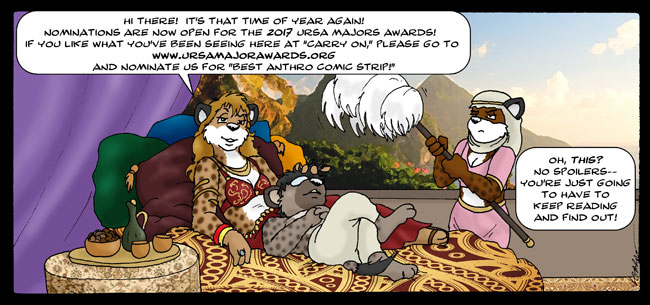 A: To The Rescue!

---
Sfx: HOO-HOO HOOT! HOO-HOO HOOT!
CaptWylde: Lord Kruger, we have a problem... we can't lower the boarding ramp. If we don't crush someone outright, I fear the crowd will swarm up— and we don't want to have to—

---
Fred: Ah— I think I see our rescue coming— Blood and Bone are here! They don't mind hurting people!
(Military unit with banner pushes through the crowd)
Sfx: HOO-HOO HOOT! HOO-HOO HOOT!

---
B: Crowd Control, Brigade Style
---
(Soldiers with shields push through the crowd)
Outta the way!
Move it!
Comin' through!

---
(Soldiers stand in honor guard formation, Jinjur walks toward the ship followed by the banner bearer)

---
C: Shameless Plug
---
(Kathy and Fred recline on a chaise, fanned by an annoyed-looking Sandy)
Kathy: Hi there! It's that time of year again! Nominations are now open for the 2017 Ursa Major Awards! If you like what you've been seeing here at "Carry On," please go to www.ursamajorawards.org and nominate us for "Best Anthro Comic Strip!"
Kathy: Oh, this? No spoilers— you're just going to have to keep reading and find out!


Sunday, July 1, 2017:Fred's Diaries

have won first place in this year's

Ursa Major Awards

, in the Best Novel category! Many thanks to everyone who voted for us!

NOTICE: Persons attempting to find a motive in this narrative will be prosecuted; persons attempting to find a moral in it will be banished; persons attempting to find a plot will be shot.

~ Mark Twain

All characters and artwork (C)2004-2015 K. Garrison (carryoncomics@hotmail.com) or their original creators.
This web comic site is Powered by Autofox 2.0 Web Comic Automation Software.
Pages created by Carl Foxmarten.