Carry On:
A comic about hyenas – really!
Carry On for Wednesday, February 7, 2018: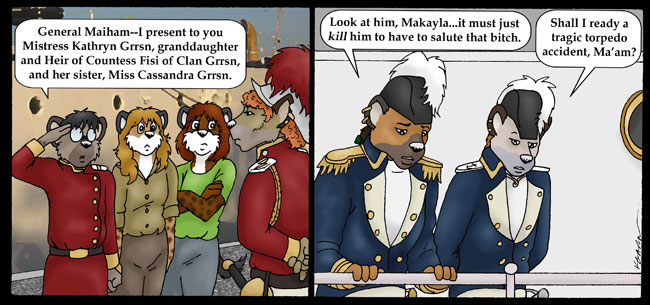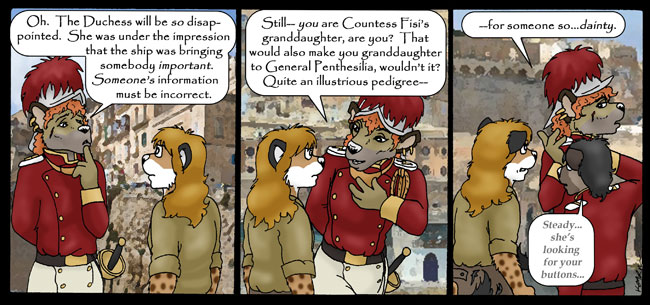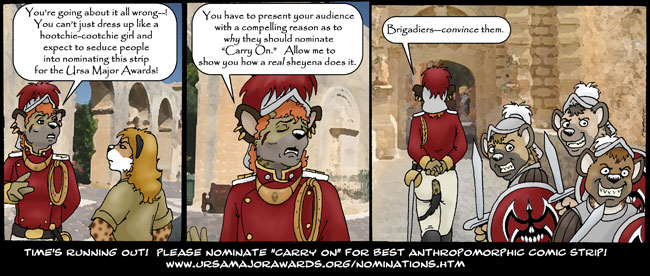 A: Don't Waste A Torpedo

---
Fred (still saluting): General Maiham— I present to you Mistress Kathryn Grrsn, granddaughter and Heir of Countess Fisi of Clan Grssn, and her sister, Miss Cassandra Grssn.

---
CaptWylde (on the deck): Look at him, Makayla... it must just kill him to have to salute that bitch.
LtKwills: Shall I ready a tragic torpedo accident, Ma'am?

---
B: Looks Like She Found 'Em
---
Jinjur: Oh. The Duchess will be so disappointed. She was under the impression that the ship was bringing somebody important. Someone's information must be incorrect.

---
Jinjur: Still— You are Countess Fisi's granddaughter, are you? That would also make you granddaughter to General Penthesilia, wouldn't it? Quite an illustrious pedigree—

---
Jinjur: —for someone so... dainty.
Fred (aside to Kathy): Steady— She's looking for your buttons...

---
C: Convincing Arguments
---
Jinjur (to Kathy_: You're going about it all wrong—! You can't just dress up like a hootchie-cootchie girl and expect to seduce people into nominating this strip for the Ursa Major Awards!

---
Jinjur: You have to present your audience with a compelling reason as to why they should nominate "Carry On." Allow me to show you how a real sheyena does it.

---
Jinjur: Brigadiers— convince them.
(Several brigadiers with swords and bared teeth)

---
Caption: Time's running out! Please nominate "Carry On" for Best Anthropomorphic Comic Strip! www.ursamajorawards.org/nominations.htm


Sunday, July 1, 2017:Fred's Diaries

have won first place in this year's

Ursa Major Awards

, in the Best Novel category! Many thanks to everyone who voted for us!

NOTICE: Persons attempting to find a motive in this narrative will be prosecuted; persons attempting to find a moral in it will be banished; persons attempting to find a plot will be shot.

~ Mark Twain

All characters and artwork (C)2004-2015 K. Garrison (carryoncomics@hotmail.com) or their original creators.
This web comic site is Powered by Autofox 2.0 Web Comic Automation Software.
Pages created by Carl Foxmarten.