Carry On:
A comic about hyenas – really!
Carry On for Monday, January 22, 2018: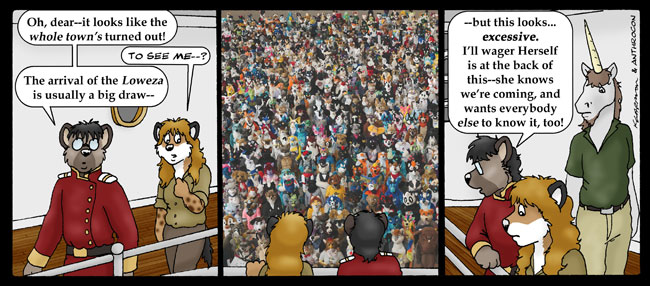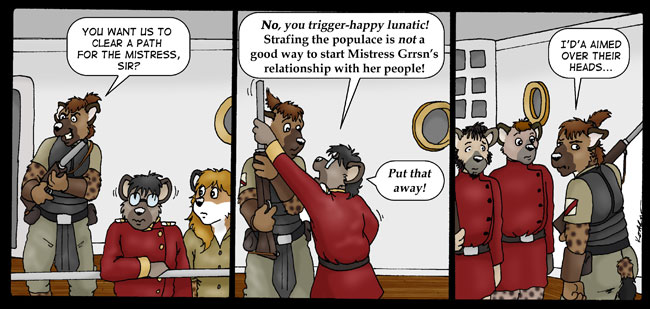 A: A Crowd In Your Face

---
Fred: Oh, dear— it looks like the whole town's turned out!
Kathy: To see me—?
Fred: The arrival of the Loweza is usually a big draw—

---
(Fred and Kathy, at the railing, look at a huge crowd of furries on shore)

---
Fred: —but this looks... excessive. I'll wager Herself is at the back of this— she knows we're coming, and wants everybody else to know it, too!

---
B: How Not To Win Friends
---
Koz (with rifle): You want us to clear a path for the Mistress, Sir?

---
Fred: No, you trigger-happy lunatic! Strafing the populace is not a good way to start Mistress Grrsn's relationship with her people! Put that away!

---
Koz (grumbling to Uri and Timo): I'd'a aimed over their heads...


Sunday, July 1, 2017:Fred's Diaries

have won first place in this year's

Ursa Major Awards

, in the Best Novel category! Many thanks to everyone who voted for us!

NOTICE: Persons attempting to find a motive in this narrative will be prosecuted; persons attempting to find a moral in it will be banished; persons attempting to find a plot will be shot.

~ Mark Twain

All characters and artwork (C)2004-2015 K. Garrison (carryoncomics@hotmail.com) or their original creators.
This web comic site is Powered by Autofox 2.0 Web Comic Automation Software.
Pages created by Carl Foxmarten.