Carry On:
A comic about hyenas – really!
Carry On for Wednesday, September 20, 2023: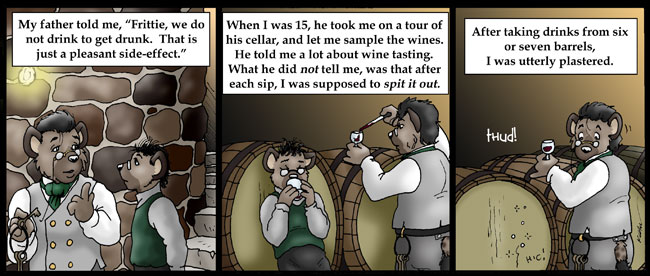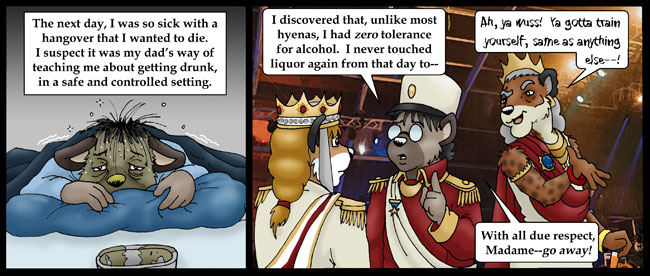 Kathy and co on Patreon:

Monday, July 11, 2022
The Carry On website has been updated! Now, the High-Resolution version of the strip lives at the main entrypoint for the website (
Carry On
), and the Low-Resolution version has been moved to a separate location (
Carry On Low-Rez
). If you prefer to see the Low-Resolution version when you enter the site, please direct your bookmarks and browsers appropriately. Otherwise, enjoy!
~Carl Foxmarten, web-admin.
Monday, December 27, 2021
Kathy and Frank Behring put together another lovely music video!
"
Nobody Does It Better
".
Thursday, November 12, 2020
Carry On was knocked offline by an upgrade HirezFox's server. We are trying to resolve the issue and hope to have everything working again soon. Check
the forum
for more information. Thanks for your patience!
Monday, July 20, 2020
To see the video,
click here
!
Wednesday, May 7, 2019:
The 2018 Ursa Major Awards will be announced at AnthrOhio 2019.
The ceremony will be 5-6pm on Sunday, May 26, 2019 at the Crowne Plaza North, located at: 6500 Doubletree Avenue, Columbus, OH 43229
Friday, April 19, 2019:
Thank you to everyone who voted for Carry On for the Ursa Major Awards!
For everyone who has recently joined us, you can find the beginning of our current storyline here:
May 2, 2011
.
Wednesday, May 22, 2018:
"Lt. Kruger and the Mistress Jade trophy Game" has won the 2017 Ursa Major for Best Short story! Thanks for your support!
NOTICE: Persons attempting to find a motive in this narrative will be prosecuted; persons attempting to find a moral in it will be banished; persons attempting to find a plot will be shot.
~ Mark Twain
All characters and artwork (C)2004-2023 K. Garrison (carryoncomics@hotmail.com) or their original creators.
This web comic site is Powered by Autofox 2.0 Web Comic Automation Software.
Pages created by Carl Foxmarten.