Carry On:
A comic about hyenas – really!
Carry On for Friday, February 9, 2018: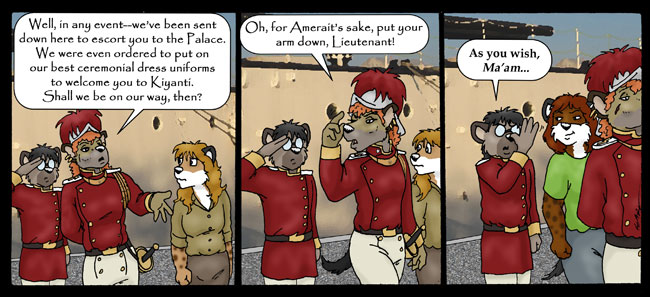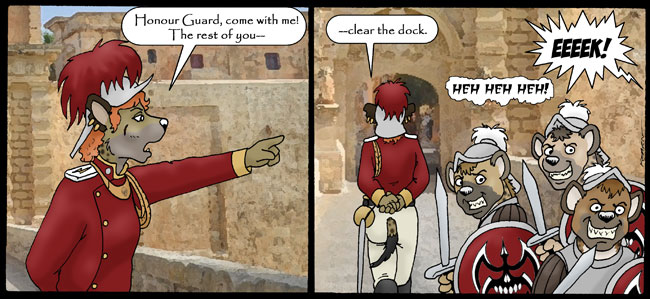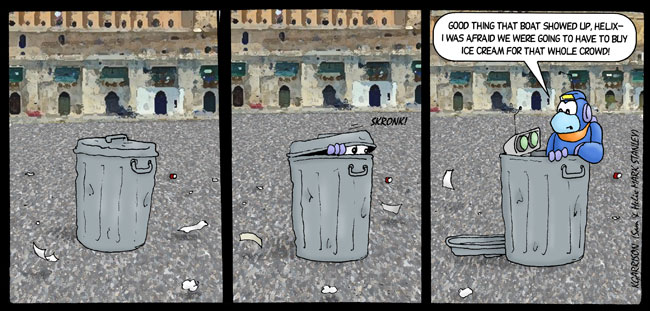 A: Just Following Orders

---
Jinjur: Well, in any event— we've been sent down here to escort you to the Palace. We were even ordered to put on our best ceremonial dress uniforms to welcome you to Kiyanti. Shall we be on our way, then?

---
(Fred is still saluting)
Jinjur: Oh, for Amerait's sake, put your arm down, Lieutenant!

---
Fred: As you wish, Ma'am...
(Fred changes from saluting to thumbing his nose behind Jinjur's back, Sandy smirks at him)

---
B: Let Loose The Hyenas Of War
---
Jinjur: Honour Guard, come with me! The rest of you—

---
Jinjur: —clear the dock.
Brigadiers (brandishing weapons, baring teeth): HEH HEH HEH!
Crowd: EEEEK!

---
C: Going For An Oscar
---
(trash can on the deserted dockside plaza)

---
(trash can lid cracks open)
Sfx: Skroink!

---
(Alien Sam Starfall and robot pal Helix peek out of trash can)
Sam: Good thing that boat showed up, Helix— I was afraid we were going to have to by ice cream for that whole crowd!


Sunday, July 1, 2017:Fred's Diaries

have won first place in this year's

Ursa Major Awards

, in the Best Novel category! Many thanks to everyone who voted for us!

NOTICE: Persons attempting to find a motive in this narrative will be prosecuted; persons attempting to find a moral in it will be banished; persons attempting to find a plot will be shot.

~ Mark Twain

All characters and artwork (C)2004-2015 K. Garrison (carryoncomics@hotmail.com) or their original creators.
This web comic site is Powered by Autofox 2.0 Web Comic Automation Software.
Pages created by Carl Foxmarten.