Carry On:
A comic about hyenas – really!
Carry On for Wednesday, January 10, 2018: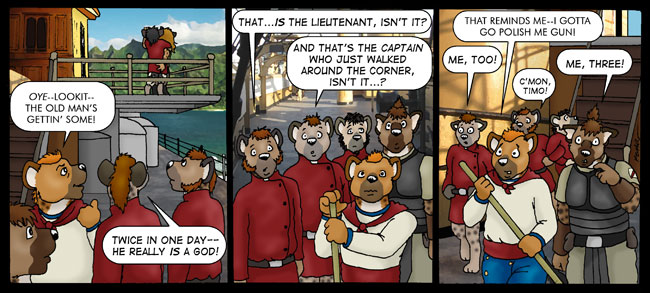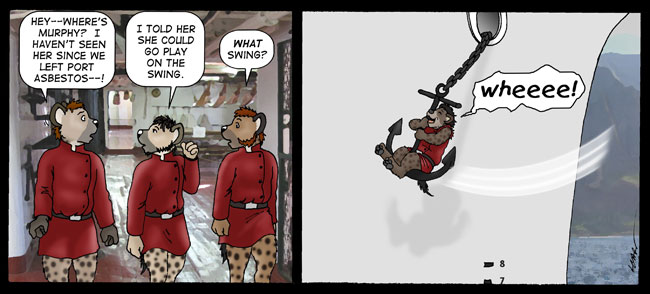 A: Is That A Euphemism?

---
Gilhuli: Oye— lookit— The Old Man's gettin' some!
Uri: Twice in one day— he really is a god!

---
Lucius: That... is the lieutenant, isn't it?
Uri: And that's the Captain who just walked around the corner, isn't it...?

---
Gilhuli: That reminds me— I gotta go polish me gun!
Uri: Me, too!
Koz: Me, three!
Lucius: C'mon, Timo!

---
B: Anchor's A Whee
---
Uri: Hey— where's Murphy? I haven't seen her since we left Port Asbestos—!
Timo: I told her she could go play on the swing.
Lucius: What swing?

---
Murphy (swinging on the ship's anchor): WHEEEE!


Sunday, July 1, 2017:Fred's Diaries

have won first place in this year's

Ursa Major Awards

, in the Best Novel category! Many thanks to everyone who voted for us!

NOTICE: Persons attempting to find a motive in this narrative will be prosecuted; persons attempting to find a moral in it will be banished; persons attempting to find a plot will be shot.

~ Mark Twain

All characters and artwork (C)2004-2015 K. Garrison (carryoncomics@hotmail.com) or their original creators.
This web comic site is Powered by Autofox 2.0 Web Comic Automation Software.
Pages created by Carl Foxmarten.