Carry On:
A comic about hyenas – really!
Carry On for Wednesday, January 3, 2018: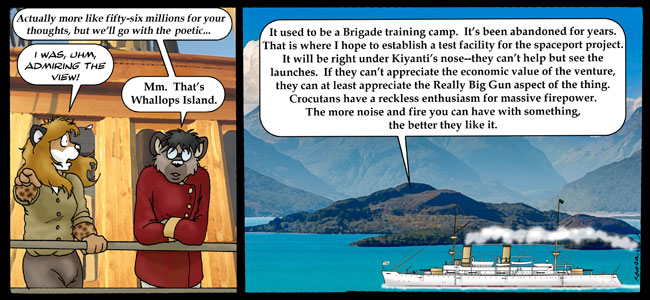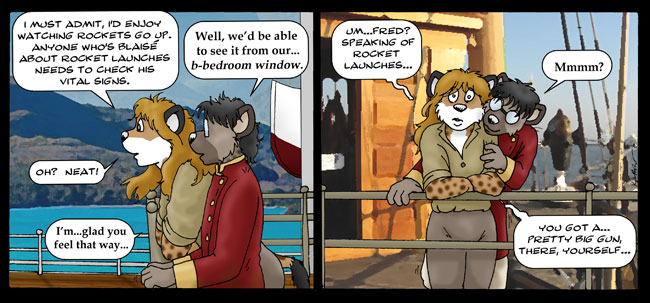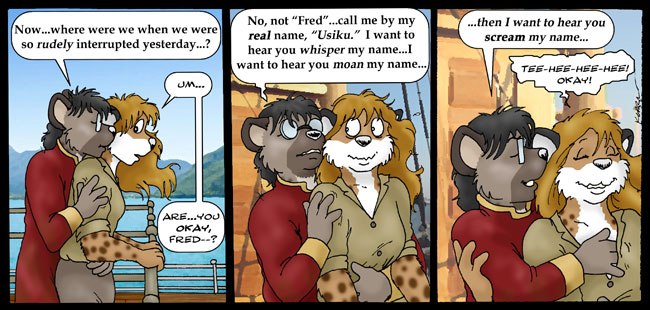 A: More Bang For Their Buck

---
Fred: Actually more like fifty-six millions for your thoughts, but we'll go with the poetic...
Kathy: I was, uhm, admiring the view!
Fred: Mm. That's Whallops Island.

---
Fred: It used to be a Brigade training camp. It's been abandoned for years. That is where I hope to establish a test facility for the spaceport project. It will be right under Kiyanti's nose— they can't help but see the launches. If they can't appreciate the economic value of the venture, they can at least appreciate the Really Big Gun aspect of the thing. Crocutans have a reckless enthusiasm for massive firepower. The more noise and fire you can have with something, the better they like it.

---
B: Locked And Loaded
---
Kathy: I must admit, I'd enjoy watching rockets go up. Anyone who's blase about rocket launches needs to check his vital signs.
Fred: Well, we'd be able to see it from our... b-bedroom window.
Kathy: Oh? Neat!
FredL I'm... glad you feel that way...

---
Kathy: Um... Fred? Speaking of rocket launches?
Fred: Mmmm?
Kathy: You got a... pretty big gun, there, yourself...

---
C: Night Moves In
---
Fred: Now... where were we when we were so rudely interrupted yesterday...?
Kathy: Um... Are... you okay, Fred—?

---
Fred: No, not "Fred"... call me by my real name, "Usiku." I want to hear you whisper my name... I want to hear you moan my name...

---
Fred: ...then I want to hear you scream my name...
Kathy: Tee-hee-hee-hee!/ Okay!


Sunday, July 1, 2017:Fred's Diaries

have won first place in this year's

Ursa Major Awards

, in the Best Novel category! Many thanks to everyone who voted for us!

NOTICE: Persons attempting to find a motive in this narrative will be prosecuted; persons attempting to find a moral in it will be banished; persons attempting to find a plot will be shot.

~ Mark Twain

All characters and artwork (C)2004-2015 K. Garrison (carryoncomics@hotmail.com) or their original creators.
This web comic site is Powered by Autofox 2.0 Web Comic Automation Software.
Pages created by Carl Foxmarten.