Carry On:
A comic about hyenas – really!
Carry On for Friday, January 12, 2018: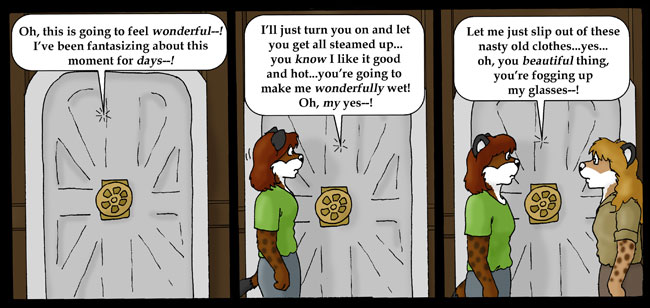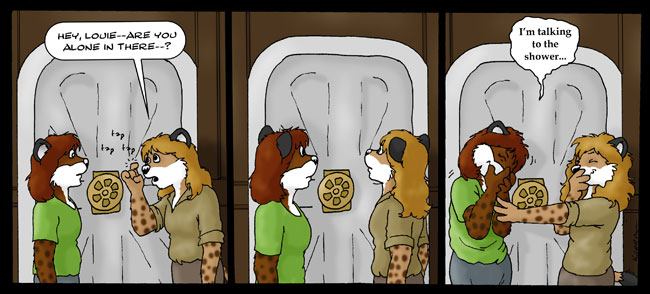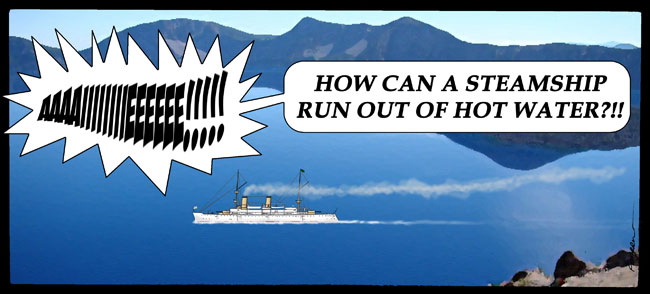 A: What Did You Say?

---
Fred (behind the bathroom door): Oh, this is going to feel wonderful—! I've been fantasizing about this moment for days—!

---
(Sandy listening outside the door)
Fred: I'll just turn you on and let you get all steamed up... you know I like it good and hot... you're going to make me wonderfully wet! Oh, my yes—!

---
(Sandy and Kathy both listening outside the door)
Fred: Let me just slip out of these nasty old clothes... yes... oh, you beautiful thing, you're fogging up my glasses!

---
B: What Did you Hear?
---
Kathy (outside the bathroom door): Hey, Louie— are you alone in there—?
Sfx: tap tap tap

---
(silence)

---
Fred: I'm talking to the shower...
(Kathy and Sandy suppress laughter)

---
C: Not Getting Steamed
---
Fred: AAAAIIIIIIIIEEEEE!!!!! HOW CAN A STEAMSHIP RUN OUT OF HOT WATER?!!


Sunday, July 1, 2017:Fred's Diaries

have won first place in this year's

Ursa Major Awards

, in the Best Novel category! Many thanks to everyone who voted for us!

NOTICE: Persons attempting to find a motive in this narrative will be prosecuted; persons attempting to find a moral in it will be banished; persons attempting to find a plot will be shot.

~ Mark Twain

All characters and artwork (C)2004-2015 K. Garrison (carryoncomics@hotmail.com) or their original creators.
This web comic site is Powered by Autofox 2.0 Web Comic Automation Software.
Pages created by Carl Foxmarten.