Carry On:
A comic about hyenas – really!
Carry On for Monday, January 8, 2018: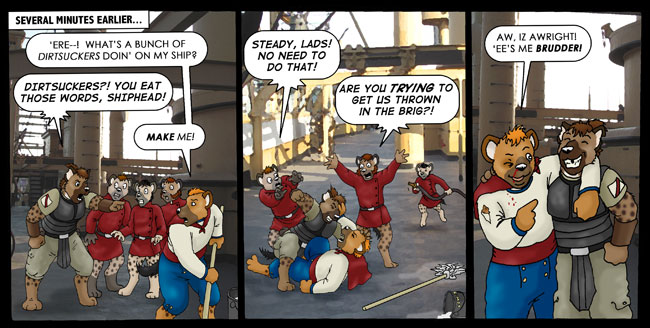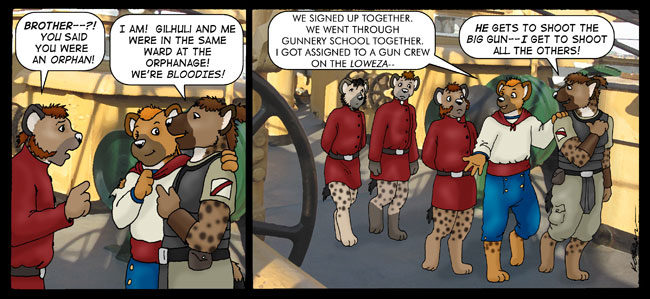 A: The Army-Navy Game

---
Caption: SEVERAL MINUTES EARLIER...
Gilhuli: 'ere—! What's a bunch of dirtsuckers doin' on my ship?
Koz: Dirtsuckers? You eat those words, shiphead!
Gilhuli: Make me!

---
Uri: Steady, lads! No need to do that!
Lucius: Are you trying to get us thrown in the brig?

---
Gilhuli: Aw, iz awright! 'ee's me brudder!

---
B: Guns And Boats
---
Uri: Brother—?! You said you were an orphan!
Koz: I am! Gilhuli and me were in the same ward at the orphanage! We're bloodies!

---
Gilhuli: We signed up together. We went through gunnery school together. I got assigned to a gun crew on the Loweza...
Koz: He gets to shoot the big gun— I get to shoot all the others!


Sunday, July 1, 2017:Fred's Diaries

have won first place in this year's

Ursa Major Awards

, in the Best Novel category! Many thanks to everyone who voted for us!

NOTICE: Persons attempting to find a motive in this narrative will be prosecuted; persons attempting to find a moral in it will be banished; persons attempting to find a plot will be shot.

~ Mark Twain

All characters and artwork (C)2004-2015 K. Garrison (carryoncomics@hotmail.com) or their original creators.
This web comic site is Powered by Autofox 2.0 Web Comic Automation Software.
Pages created by Carl Foxmarten.