Carry On:
A comic about hyenas – really!
Carry On for Friday, February 2, 2018: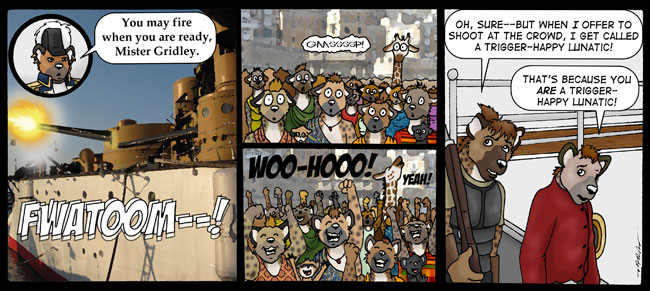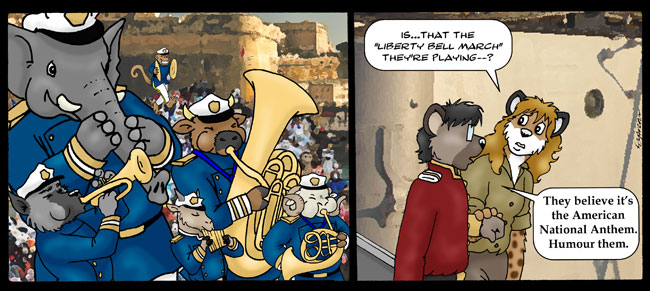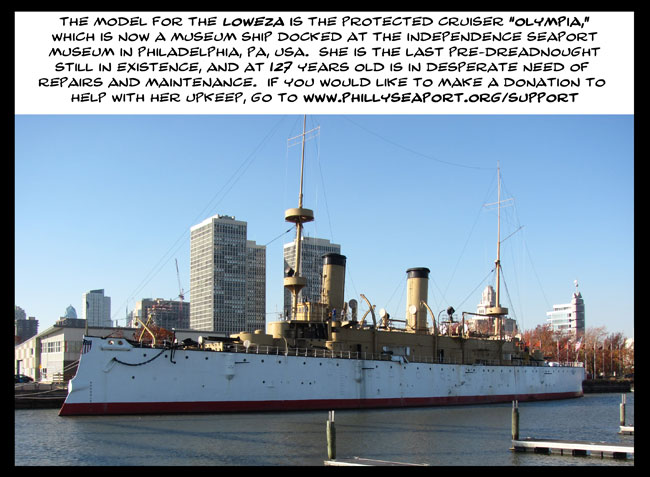 A: Firing A Salute

---
CaptWylde: You may fire when you are ready, Mister Gridley.

---
(Huge muzzle flash from the main gun of the Loweza, firing a salute)
Sfx: FWATOOM—!

---
Crowd: Gaassssp!

---
Crowd: WOO-HOOO! YEAH!

---
(Koz and Uri, coming down the gangway)
Koz: Oh, sure— but when I offer to shoot at the crowd, I get called a trigger-happy lunatic!
Uri: That's because you are a trigger-happy lunatic!

---
B: Playing The Anthem
---
(Military band playing on shore as Fred and Kathy walk down the gangway)
Kathy: Is... that the "Liberty Bell March" they're playing—?
Fred: They believe it's the American National Anthem. Humour them.

---
C: Olympia Tribute
---
(Photo of the cruiser Olympia)
TheAuthor: The model for the Loweza is the protected cruiser "Olympia," which is now a museum ship docked at the Independence Seaport Museum in Philadelphia, PA, USA. She is the last pre-dreadnought still in existence, and at 127 years old is in desperate need of repairs and maintenance. If you would like to make a donation to help with her upkeep, go to www.phillyseaport.org/support


Sunday, July 1, 2017:Fred's Diaries

have won first place in this year's

Ursa Major Awards

, in the Best Novel category! Many thanks to everyone who voted for us!

NOTICE: Persons attempting to find a motive in this narrative will be prosecuted; persons attempting to find a moral in it will be banished; persons attempting to find a plot will be shot.

~ Mark Twain

All characters and artwork (C)2004-2015 K. Garrison (carryoncomics@hotmail.com) or their original creators.
This web comic site is Powered by Autofox 2.0 Web Comic Automation Software.
Pages created by Carl Foxmarten.