Carry On:
A comic about hyenas – really!
Carry On for Friday, January 19, 2018: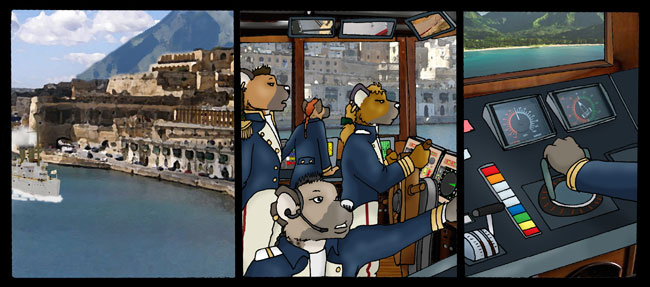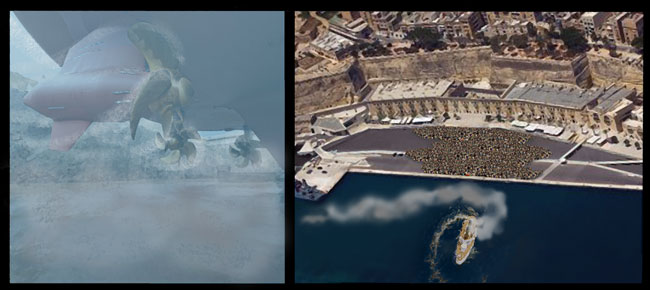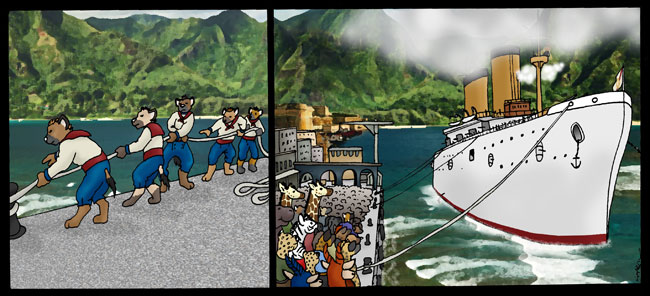 A: Prepare To Come About!

---
(The ship approaches the city)

---
(On the ship's bridge, Captain Wylde stands behind the helmsman at the wheel. LtKwills is seated at the navigation panel wearing a headset.)

---
(The helmsman's paw adjusting the engine speed)

---
B: Hard Over!
---
(Underwater view of the ship's azipods, propellers churning)

---
(Aerial view of the Loweza turning end-for-end, preparing to dock, with a large crowd gathered at the port)

---
C: Put Your Backs Into It, Lads!
---
(male crewmembers fasten lines to mooring posts)

---
(the Loweza approaches alongside the dock with several mooring lines attached, smoke and steam pouring from the funnels, a large crowd waiting on shore)

Sunday, July 1, 2017:
Fred's Diaries
have won first place in this year's
Ursa Major Awards
, in the Best Novel category! Many thanks to everyone who voted for us!
NOTICE: Persons attempting to find a motive in this narrative will be prosecuted; persons attempting to find a moral in it will be banished; persons attempting to find a plot will be shot.
~ Mark Twain
All characters and artwork (C)2004-2015 K. Garrison (carryoncomics@hotmail.com) or their original creators.
This web comic site is Powered by Autofox 2.0 Web Comic Automation Software.
Pages created by Carl Foxmarten.