Carry On:
A comic about hyenas – really!
Carry On for Monday, February 5, 2018: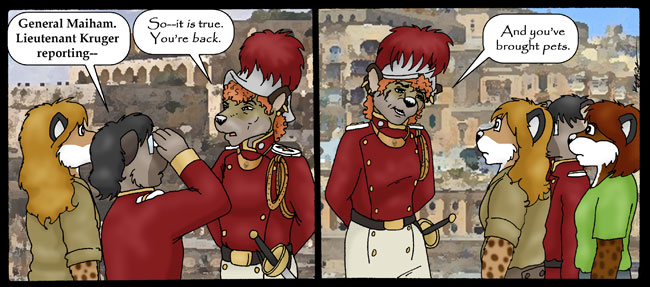 A: Laying It Out in Black And White

---
(side view in silhouette of the Brigadiers coming down the gangway, followed by Fred and Kathy, then Sandy and Horn, with Jinjur and Blood and Bone standing on shore at the bottom)
Fred (to Kathy): Now remember, Ma'am— until Her Grace formally recognises you as her Heir, your status here is based upon your relationship to Countess Fisi. Officially, you are here to pay a social call on the Duchess. We must not risk tipping our hand; it will be best if you let me do all the talking... believe me, this is going to be some of the hardest acting I've ever done...

---
B: First Impressions
---
Fred (saluting): General Maiham. Lieutentant Kruger reporting—
Jinjur: So— it is true. You're back.

---
Jinjur: And you've brought pets.


Sunday, July 1, 2017:Fred's Diaries

have won first place in this year's

Ursa Major Awards

, in the Best Novel category! Many thanks to everyone who voted for us!

NOTICE: Persons attempting to find a motive in this narrative will be prosecuted; persons attempting to find a moral in it will be banished; persons attempting to find a plot will be shot.

~ Mark Twain

All characters and artwork (C)2004-2015 K. Garrison (carryoncomics@hotmail.com) or their original creators.
This web comic site is Powered by Autofox 2.0 Web Comic Automation Software.
Pages created by Carl Foxmarten.