Carry On:
A comic about hyenas – really!
Carry On for Friday, January 5, 2018: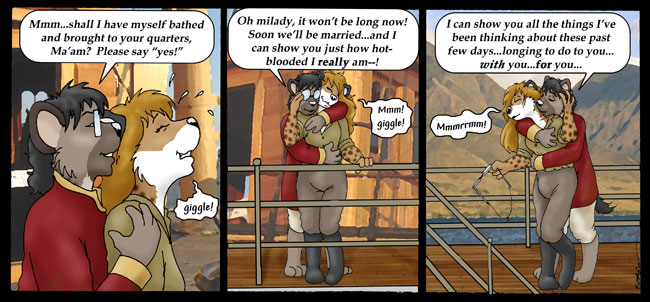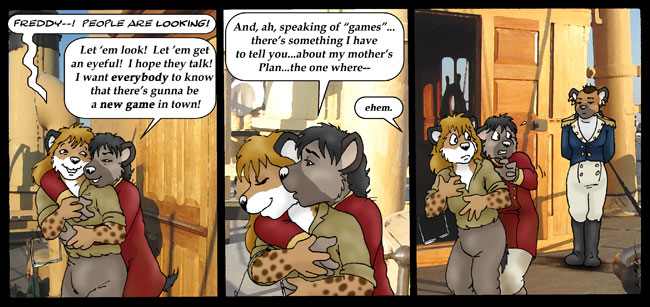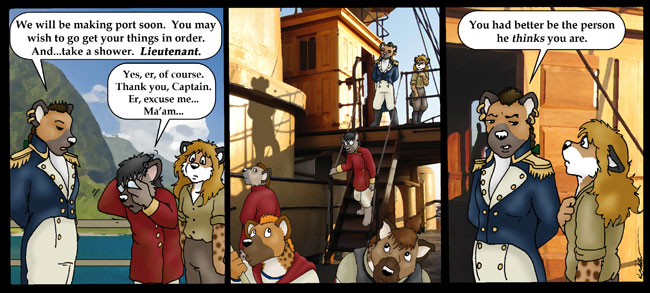 A: Sweet Seduction

---
Fred: Mmm... shall I have myself bathed and brought to your quarters, Ma'am? Please say "yes!"
Kathy: giggle!

---
Fred: Oh milady, it wasn't be long now! Soon we'll be married... and I can show you just how hot-blooded I really am—!
Kathy: Mmm! giggle!

---
Fred: I can show you all the things I've been thinking about these past few days... longing to do to you... with you... for you...
Kathy: Mmmrrmm!

---
B: Not Now
---
Kathy: Freddy—! People are looking!
Fred: Let 'em look! Let 'em get an eyeful! I hope they talk! I want everybody to know that there's gunna be a new game in town!

---
Fred: And, ah, speaking of "games"... there's something I have to tell you... about my mother's Plan... the one where—
CaptWylde: ehem.

---
C: A Cold One
---
CaptWylde: We will be making port soon. You may wish to go get your things in order. And... take a shower. Lieutenant.
Fred: Yes, er, of course. Thank you, Captain. Er, excuse me... Ma'am.

---
(Fred leaves down the bridge stairs, ship's crew looking nervously over their shoulders)

---
CaptWylde: You had better be the person he thinks you are.


Sunday, July 1, 2017:Fred's Diaries

have won first place in this year's

Ursa Major Awards

, in the Best Novel category! Many thanks to everyone who voted for us!

NOTICE: Persons attempting to find a motive in this narrative will be prosecuted; persons attempting to find a moral in it will be banished; persons attempting to find a plot will be shot.

~ Mark Twain

All characters and artwork (C)2004-2015 K. Garrison (carryoncomics@hotmail.com) or their original creators.
This web comic site is Powered by Autofox 2.0 Web Comic Automation Software.
Pages created by Carl Foxmarten.