Carry On:
A comic about hyenas – really!
Carry On for Monday, February 26, 2018: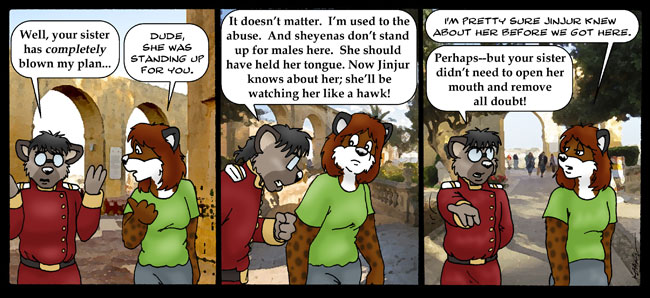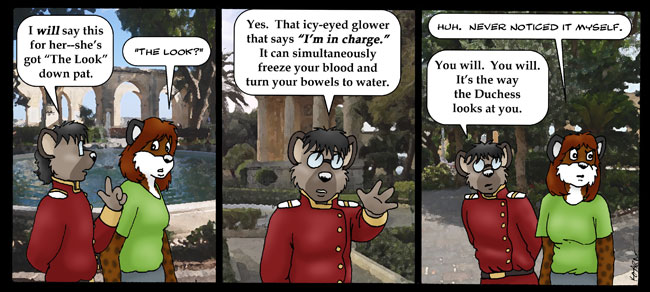 A: Fred Fouled

---
Fred: Well, your sister has completely blown my plan...
Sandy: Dude, she was standing up for you.

---
Fred: It doesn't matter. I'm used to the abuse. And sheyenas don't stand up for males here. She should have held her tongue. Now Jinjur knows about her; she'll be watching her like a hawk!

---
Sandy: I'm pretty sure Jinjur knew about her before we got here.
Fred: Perhaps— but your sister didn't need to open her mouth and remove all doubt!

---
B: She's Got "The Look"
---
Fred: I WILL say this for her— she's got "The Look" down pat.
Sandy: "The Look?"

---
Fred: Yes. That icy-eyed glower that says "I'm in charge." It can simultaneously freeze your blood and turn your bowels to water.

---
Sandy: Huh. Never noticed it myself.
Fred: You will. You will. It's the way the Duchess looks at you.


Sunday, July 1, 2017:Fred's Diaries

have won first place in this year's

Ursa Major Awards

, in the Best Novel category! Many thanks to everyone who voted for us!

NOTICE: Persons attempting to find a motive in this narrative will be prosecuted; persons attempting to find a moral in it will be banished; persons attempting to find a plot will be shot.

~ Mark Twain

All characters and artwork (C)2004-2015 K. Garrison (carryoncomics@hotmail.com) or their original creators.
This web comic site is Powered by Autofox 2.0 Web Comic Automation Software.
Pages created by Carl Foxmarten.