Carry On:
A comic about hyenas – really!
Carry On for Friday, March 2, 2018: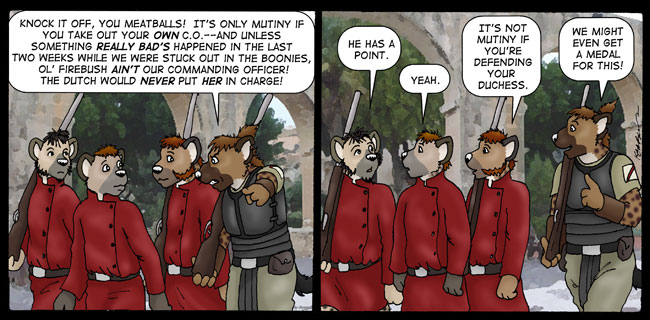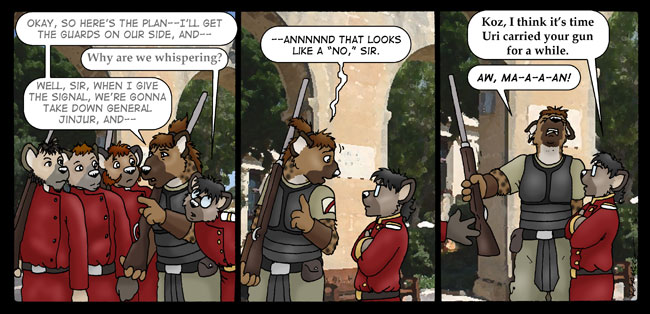 A: Lead Is A Metal

---
Koz: Knock it off, you meatballs! It's only mutiny if you take out your own C.O.— and unless something really bad's happened in the last two weeks while we were stuck out in the boonies, Ol' Firebush ain't our commanding officer! The Dutch would never put her in charge!

---
Timo: He has a point.
Uri: Yeah.
Lucius: It's not mutiny if you're defending your Duchess.
Koz: We might even get a medal for this!

---
B: Gun Control
---
Koz: Okay, so here's the plan— I'll get the guards on our side, and—
Fred: Why are we whispering?
Koz: Well, Sir, when I give the signal, we're gonna take down General Jinjur, and—

---
Koz: —annnnnd that looks like a "no," Sir.

---
Fred: Koz, I think it's time Uri carried your gun for a while.
Koz: Aw, Ma-a-a-an!


Sunday, July 1, 2017:Fred's Diaries

have won first place in this year's

Ursa Major Awards

, in the Best Novel category! Many thanks to everyone who voted for us!

NOTICE: Persons attempting to find a motive in this narrative will be prosecuted; persons attempting to find a moral in it will be banished; persons attempting to find a plot will be shot.

~ Mark Twain

All characters and artwork (C)2004-2015 K. Garrison (carryoncomics@hotmail.com) or their original creators.
This web comic site is Powered by Autofox 2.0 Web Comic Automation Software.
Pages created by Carl Foxmarten.