Carry On:
A comic about hyenas – really!
Carry On for Friday, February 23, 2018: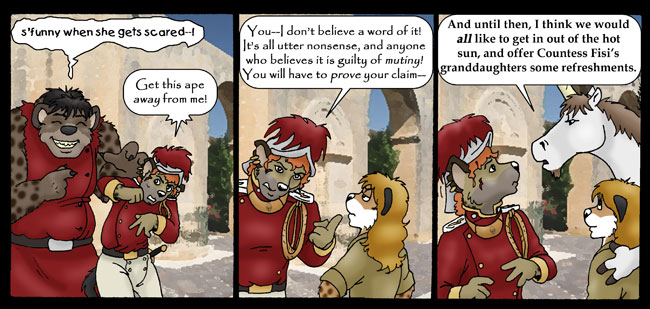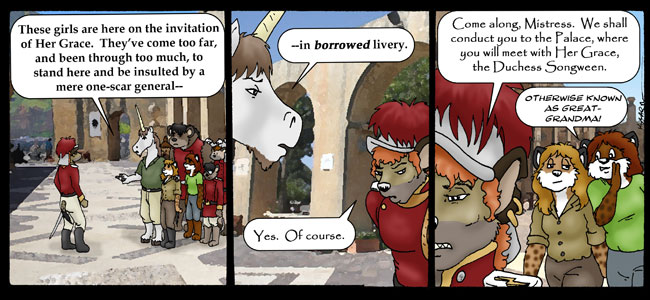 A: The White Knight Protects The Queen

---
Murphy: S'funny when she gets scared—!
Jinjur: Get this ape away from me!

---
Jinjur: You— I don't believe a word of it! It's all utter nonsense, and anyone who believes it is guilty of mutiny! You will have to prove your claim—

---
Horn: And until then, I think we would all like to get in out of the hot sun, and offer Countess Fisi's granddaughters some refreshments.

---
B: Checkmate
---
Horn: These girls are here on the invitation of Her Grace. They've come too far, and been through too much, to stand here and be insulted by a mere one-scar general—

---
Horn: in borrowed livery.
Jinjur: Yes. Of course.

---
Jinjur: Come along, Mistress. We shall conduct you to the Palace, where you will meet with Her Grace, the Duchess Songween.
Sandy (aside to Kathy): Otherwise known as Great-Grandma!


Sunday, July 1, 2017:Fred's Diaries

have won first place in this year's

Ursa Major Awards

, in the Best Novel category! Many thanks to everyone who voted for us!

NOTICE: Persons attempting to find a motive in this narrative will be prosecuted; persons attempting to find a moral in it will be banished; persons attempting to find a plot will be shot.

~ Mark Twain

All characters and artwork (C)2004-2015 K. Garrison (carryoncomics@hotmail.com) or their original creators.
This web comic site is Powered by Autofox 2.0 Web Comic Automation Software.
Pages created by Carl Foxmarten.