Carry On:
A comic about hyenas – really!
Carry On for Wednesday, February 21, 2018: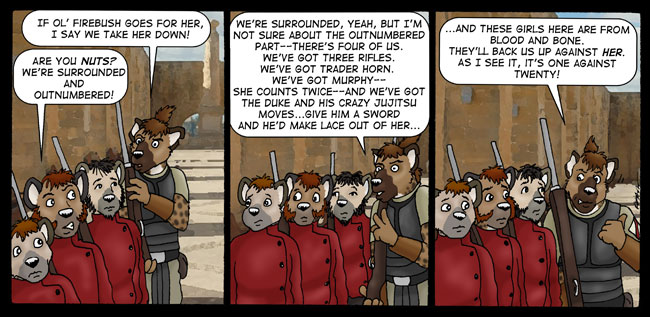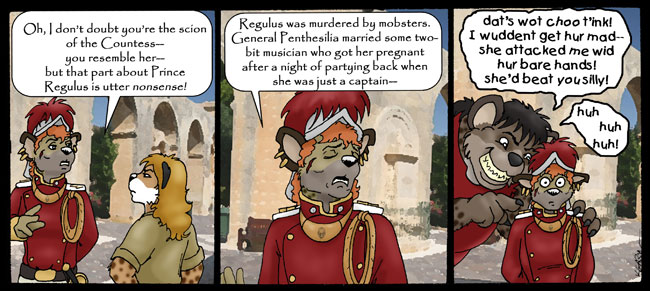 A: Koz Does The Math

---
Koz: If Ol' Firebush goes for her, I say we take her down!
Lucius: Are you nuts? We're surrounded and outnumbered!

---
Koz: We're surrounded, yeah, but I'm not sure about the outnumbered part— there's four of us. We've got three rifles. We've got Trader Horn. We've got Murphy— she counts twice— and we've got The Duke and his crazy Jujitsu moves... give him a sword and he's make lace out of her...

---
Koz: ...and these girls here are from Blood and Bone. They'll back us up against her. As I see it, it's one against twenty!

---
B: Hey, Sherlock...
---
Jinjur: Oh, I don't doubt you're the scion of the Countess— you resemble her— but that part about Prince Regulus is utter nonsense!

---
Jinjur: Regulus was murdered by mobsters. General Penthesilia married some two-bit musician who got her pregnant after a night of partying back when she was just a captain—

---
Murphy: Dat's wot choo t'ink! I wuddent get hut mad— she attacked me wid hur bare hands! She'd beat you silly! Huh huh huh!

Sunday, July 1, 2017:
Fred's Diaries
have won first place in this year's
Ursa Major Awards
, in the Best Novel category! Many thanks to everyone who voted for us!
NOTICE: Persons attempting to find a motive in this narrative will be prosecuted; persons attempting to find a moral in it will be banished; persons attempting to find a plot will be shot.
~ Mark Twain
All characters and artwork (C)2004-2015 K. Garrison (carryoncomics@hotmail.com) or their original creators.
This web comic site is Powered by Autofox 2.0 Web Comic Automation Software.
Pages created by Carl Foxmarten.