Carry On:
A comic about hyenas – really!
Carry On for Wednesday, February 14, 2018: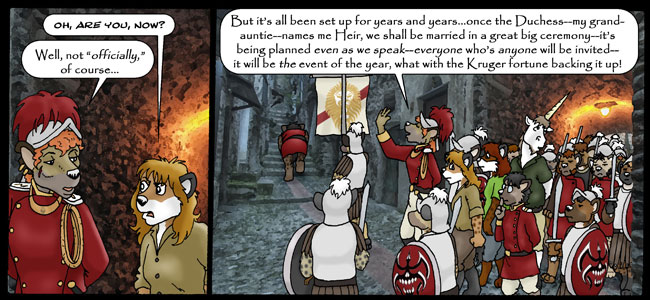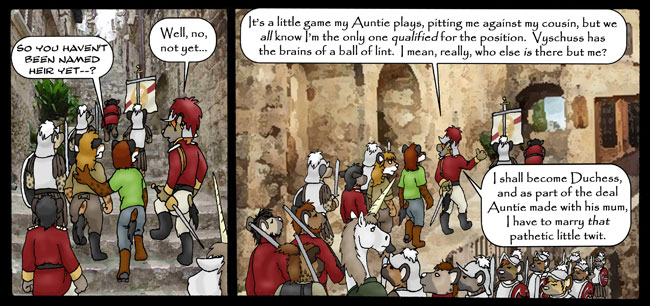 A: How...Romantic

---
Kathy: Oh, are you, now?
Jinjur: Well, not "officially," of course...

---
Jinjur: But it's all been set up for years and years... once the Duchess— my grand-auntie— names me Heir, we shall be married in a great big ceremony— it's being planned even as we speak— Everyone who's anyone will be invited— it will be the event of the year, what with the Kruger fortune backing it up!

---
B: Don't Be So Sure
---
Sandy: So you haven't been named Heir yet—?
Jinjur: Well, no, not yet...

---
Jinjur: It's a little game my Auntie plays, pitting me against my cousin, but we all know I'm the only one qualified for the position. Vyschuss has the brains of a ball of lint. I mean, really who else is there but me? I shall become Duchess, and as part of the deal Auntie made with his mum, I have to marry that pathetic little twit.


Sunday, July 1, 2017:Fred's Diaries

have won first place in this year's

Ursa Major Awards

, in the Best Novel category! Many thanks to everyone who voted for us!

NOTICE: Persons attempting to find a motive in this narrative will be prosecuted; persons attempting to find a moral in it will be banished; persons attempting to find a plot will be shot.

~ Mark Twain

All characters and artwork (C)2004-2015 K. Garrison (carryoncomics@hotmail.com) or their original creators.
This web comic site is Powered by Autofox 2.0 Web Comic Automation Software.
Pages created by Carl Foxmarten.