Carry On:
A comic about hyenas – really!
Carry On for Monday, October 24, 2016: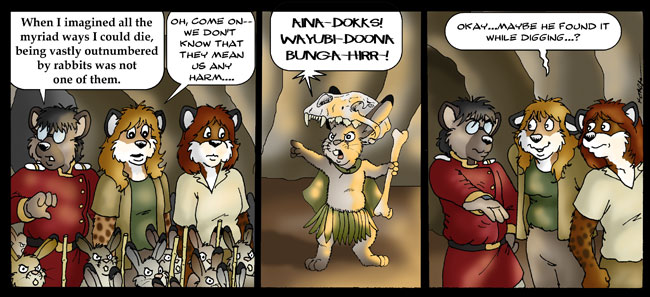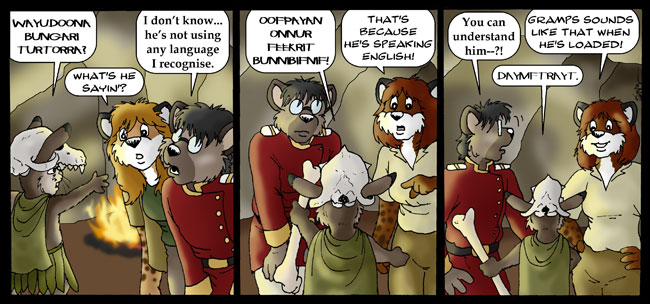 A: Lookit Tha Bones, Mon!

---
Fred: When I imagined all the myriad ways I could die, being vastly outnumbered by rabbits was not one of them.
Kathy: Oh, come on— we don't know that they mean us any harm...

---
BunnyChieftain (wearing a hyena skull): Aina-dokks! Wayubi-doona bunga-hirr—!

---
Kathy: Okay.. maybe he found it while digging...?

---
B: Ebunnix
---
BunnyChieftain: Wayudoona bungari turtorra?
Kathy: What's he sayin'?
Fred: I don't know... he's not using any language I recognise.

---
BunnyChieftain: Oofpayan onnur feekrit bunnibifnif!
Sandy: That's because he's speaking English!

---
Fred: You can understand him—?!
Sandy: Gramps sounds like that when he's loaded!
BunnyChieftain: Daymftrayt.


Sunday, July 1, 2017:Fred's Diaries

have won first place in this year's

Ursa Major Awards

, in the Best Novel category! Many thanks to everyone who voted for us!

NOTICE: Persons attempting to find a motive in this narrative will be prosecuted; persons attempting to find a moral in it will be banished; persons attempting to find a plot will be shot.

~ Mark Twain

All characters and artwork (C)2004-2015 K. Garrison (carryoncomics@hotmail.com) or their original creators.
This web comic site is Powered by Autofox 2.0 Web Comic Automation Software.
Pages created by Carl Foxmarten.