Carry On:
A comic about hyenas – really!
Carry On for Wednesday, September 28, 2016: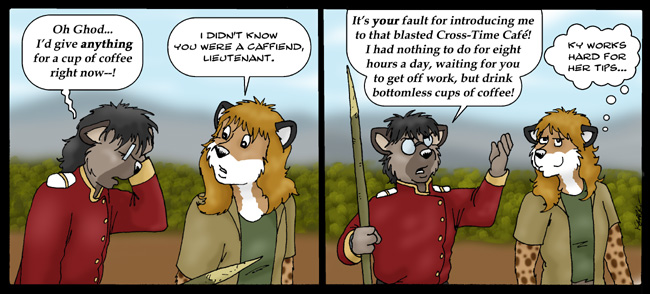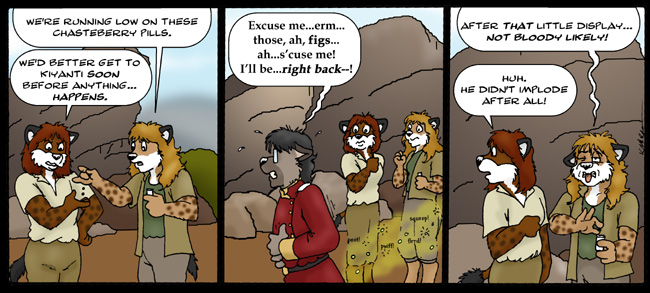 A: Java Junkie

---
Fred: Oh Ghod... I'd give anything for a cup of coffee right now—!
Kathy: I didn't know you were a caffiend, Lieutenant.

---
Fred: It's you fault for introducing me to that blasted Cross-Time Cafe! I had nothing to do for eight hours a day, waiting for you to get off work, but drink bottomless cups of coffee!
Kathy (thinking): Ky works hard for her tips...

---
B: Bubble And Squeak
---
Kathy: We're running low on these chasteberry pills.
Sandy: We'd better get to Kiyanti soon before anything... happens.

---
Fred: Excuse me... erm... those, ah, figs... ah...s'cuse me! I'll be... right back—!

---
Kathy: After that little display... Not bloody likely!
Sandy: Huh. He didn't implode after all!

Sunday, July 1, 2017:
Fred's Diaries
have won first place in this year's
Ursa Major Awards
, in the Best Novel category! Many thanks to everyone who voted for us!
NOTICE: Persons attempting to find a motive in this narrative will be prosecuted; persons attempting to find a moral in it will be banished; persons attempting to find a plot will be shot.
~ Mark Twain
All characters and artwork (C)2004-2015 K. Garrison (carryoncomics@hotmail.com) or their original creators.
This web comic site is Powered by Autofox 2.0 Web Comic Automation Software.
Pages created by Carl Foxmarten.