Carry On:
A comic about hyenas – really!
Carry On for Friday, October 14, 2016: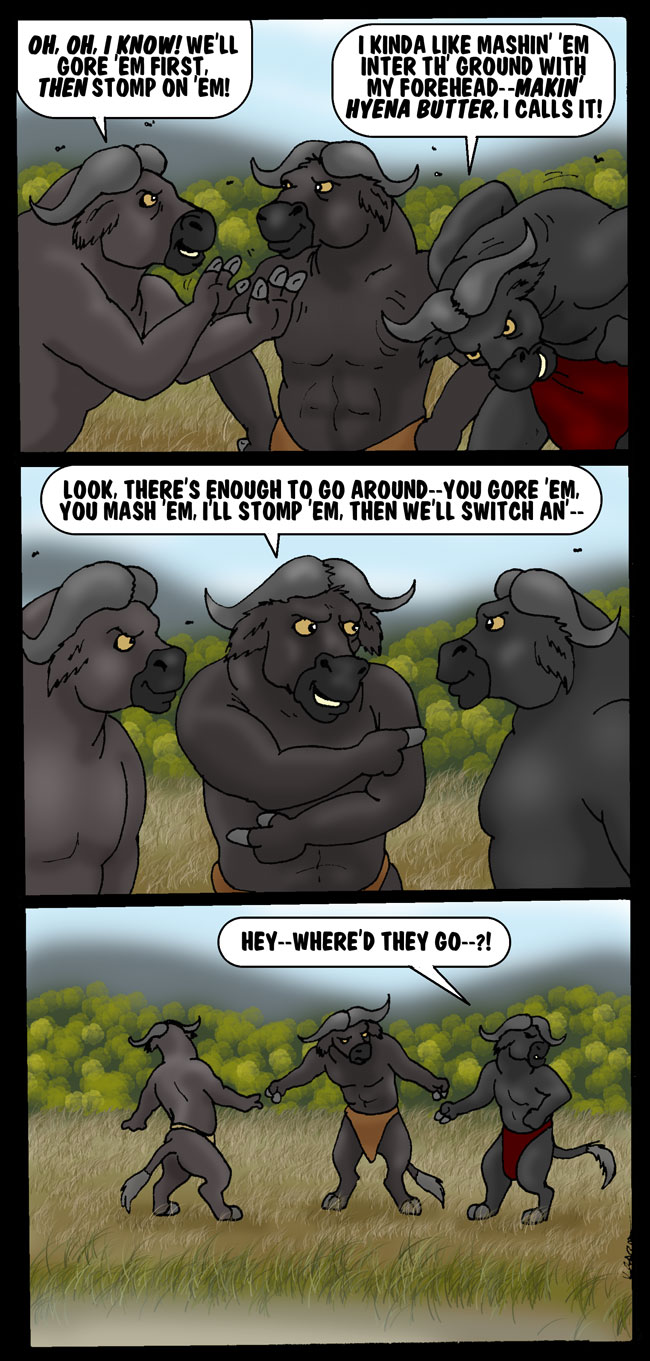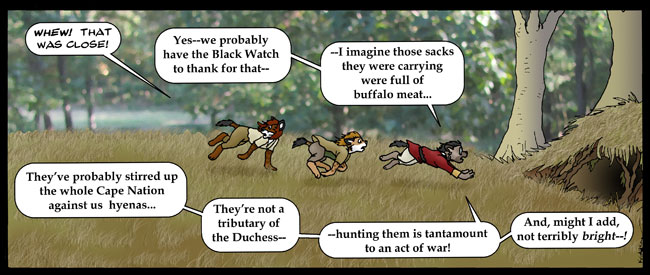 A: And We're Toast

---
Buffalo3: Oh, oh, I know! We'll gore 'em first, then stomp on 'em!
Buffalo: I kinda like mashin 'em inter th' ground with my forehead— makin' hyena butter, I calls it!

---
Buffalo2: Look, there's enough to go around— you gore 'em, you mash 'em, I'll stomp 'em, then we'll switch an'—

---
Buffalo: Hey, where'd they go—?!

---
B: Down The Rabbit Hole
---
Sandy: Whew! That was close!
Fred: Yes— we probably have the Black Watch to thank for that— I imagine those sacks they were carrying were fully of buffalo meat... They've probably stirred up the whole Cape Nation against us hyenas... They're not a tributary of the Duchess— hunting them is tantamount to an act of war! And, might I add, not terribly bright—!


Sunday, July 1, 2017:Fred's Diaries

have won first place in this year's

Ursa Major Awards

, in the Best Novel category! Many thanks to everyone who voted for us!

NOTICE: Persons attempting to find a motive in this narrative will be prosecuted; persons attempting to find a moral in it will be banished; persons attempting to find a plot will be shot.

~ Mark Twain

All characters and artwork (C)2004-2015 K. Garrison (carryoncomics@hotmail.com) or their original creators.
This web comic site is Powered by Autofox 2.0 Web Comic Automation Software.
Pages created by Carl Foxmarten.