Carry On:
A comic about hyenas – really!
Carry On for Friday, October 21, 2016: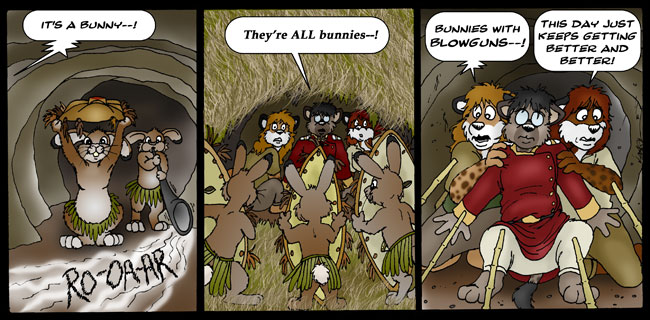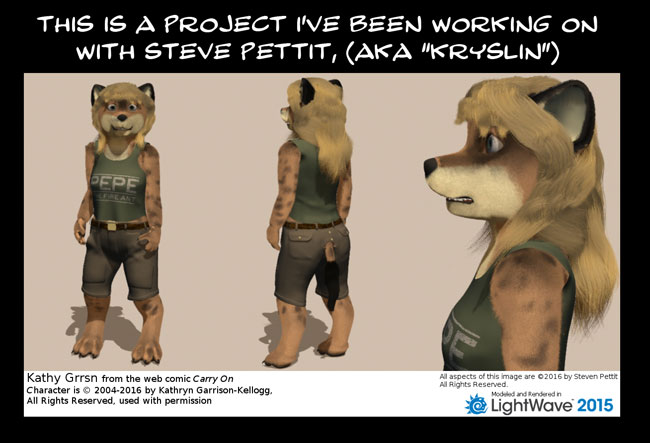 A: Surprise

---
Kathy: It's a bunny—!
BunnyWarriors: RO-OA-AR

---
Fred: They're ALL bunnies—!

---
Kathy: Bunnies with BLOWGUNS!
Sandy: This day just keeps getting better and better!

---
B: Another Fine Myth You've Gotten Us Into
---
Fred: Not much is known about these "briar rabbits"—they're considered an almost mythical species, solitary creatures which appear out of nowhere, play pranks, then vanish without a trace. We call them "lapracons."

---
Kathy: Looks like some myths are about to get busted... big time.


Sunday, July 1, 2017:Fred's Diaries

have won first place in this year's

Ursa Major Awards

, in the Best Novel category! Many thanks to everyone who voted for us!

NOTICE: Persons attempting to find a motive in this narrative will be prosecuted; persons attempting to find a moral in it will be banished; persons attempting to find a plot will be shot.

~ Mark Twain

All characters and artwork (C)2004-2015 K. Garrison (carryoncomics@hotmail.com) or their original creators.
This web comic site is Powered by Autofox 2.0 Web Comic Automation Software.
Pages created by Carl Foxmarten.