Carry On:
A comic about hyenas – really!
Carry On for Monday, October 17, 2016: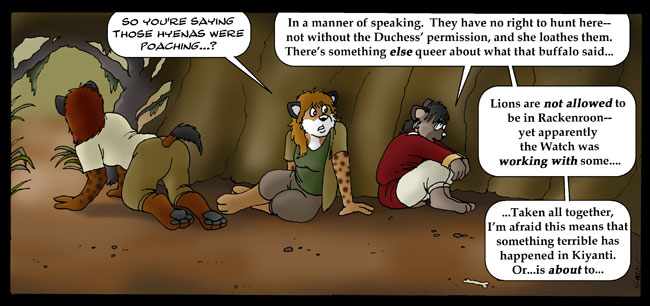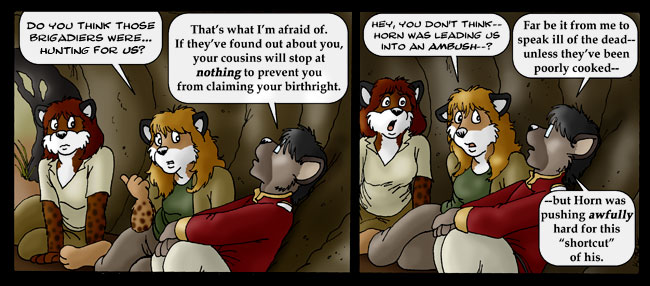 A: Foreboding

---
Kathy: So you're saying those hyenas were poaching...?
Fred: In a manner of speaking. They have no right to hunt here— not without the Duchess' permissions, and she loathes them. There's something else queer about what that buffalo said... Lions are not allowed to be in Rackenroon— yet apparently the Watch was working with some... Taken all together, I'm afraid this means that something terrible has happened in Kiyanti. Or... is about to...

---
B: Suspicion
---
Sandy: Do you think those brigadiers were... hunting for us?
Fred: That's what I'm afraid of. If they've found out about you, your cousins will stop at nothing to prevent you from claiming your birthright.

---
Kathy: Hey, you don't think... Horn was leading us into an ambush—?
Fred: Far be it from me to speak ill of the dead— unless they've been poorly cooked— but Horn was pushing awfully hard for this "shortcut" of his.


Sunday, July 1, 2017:Fred's Diaries

have won first place in this year's

Ursa Major Awards

, in the Best Novel category! Many thanks to everyone who voted for us!

NOTICE: Persons attempting to find a motive in this narrative will be prosecuted; persons attempting to find a moral in it will be banished; persons attempting to find a plot will be shot.

~ Mark Twain

All characters and artwork (C)2004-2015 K. Garrison (carryoncomics@hotmail.com) or their original creators.
This web comic site is Powered by Autofox 2.0 Web Comic Automation Software.
Pages created by Carl Foxmarten.