Carry On:
A comic about hyenas – really!
Carry On for Monday, October 3, 2016: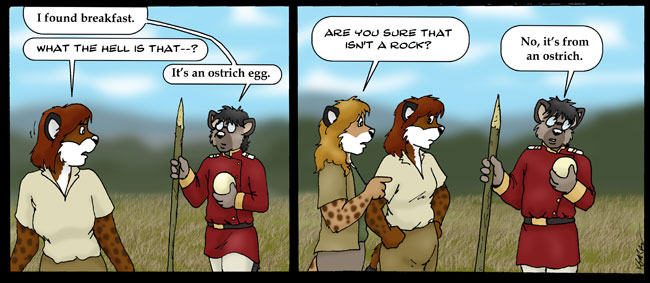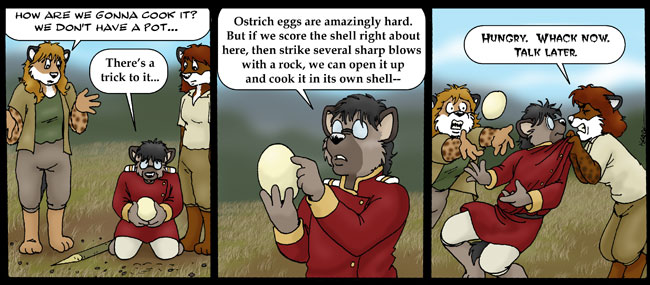 A: Know Your Birds

---
Fred: I found breakfast.
Sandy: What the hell is that—?
Fred: It's an ostrich egg.

---
Kathy: Are you sure that isn't a rock?
Fred: No, it's from an ostrich.

---
B: What The Shell
---
Kathy: How are we gonna cook it? We don't have a pot...
Fred: There's a trick to it...

---
Fred: Ostrich eggs are amazingly hard. But if we score the shell right about here, then strike several sharp blows with a rock, we can open it up and cook it in its own shell—

---
Sandy: HUNGRY. WHACK NOW. TALK LATER.


Sunday, July 1, 2017:Fred's Diaries

have won first place in this year's

Ursa Major Awards

, in the Best Novel category! Many thanks to everyone who voted for us!

NOTICE: Persons attempting to find a motive in this narrative will be prosecuted; persons attempting to find a moral in it will be banished; persons attempting to find a plot will be shot.

~ Mark Twain

All characters and artwork (C)2004-2015 K. Garrison (carryoncomics@hotmail.com) or their original creators.
This web comic site is Powered by Autofox 2.0 Web Comic Automation Software.
Pages created by Carl Foxmarten.