Carry On:
A comic about hyenas – really!
Carry On for Monday, December 21, 2020: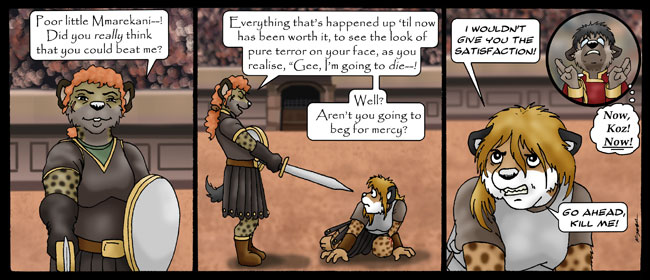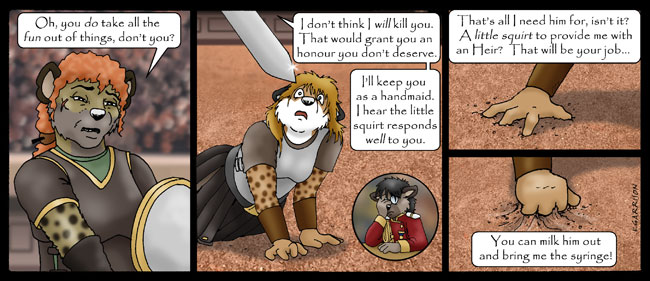 A: Can't Get No Satisfaction

---
Jinjur: Poor little Mmarekani—! Did you really think that you could beat me?

---
Jinjur: Everything that's happened up 'til now has been worth it, to see the look of pure terror on your face as you realise, "Gee, I'm going to die—!" Well? Aren't you going to beg for mercy?

---
Kathy: I wouldn't give you the satisfaction!
Fred (thinking): Now, Koz! Now!
Kathy: Go ahead, kill me!

---
B: Handmaid
---
Jinjur: Oh, you do take all the fun out of things, don't you?

---
Jinjur: I don't think I will kill you. That would grant you an honour you don't deserve. I'll keep you as a handmaid. I hear the little squirt responds well to you.

---
Jinjur: That's all I need him for, isn't it? A little squirt to provide me with an Heir. That will be your job....

---
(Kathy grabs a fistful of sand)
Jinjur: You can milk him out and bring me the syringe!


Sunday, July 1, 2017:Fred's Diaries

have won first place in this year's

Ursa Major Awards

, in the Best Novel category! Many thanks to everyone who voted for us!

NOTICE: Persons attempting to find a motive in this narrative will be prosecuted; persons attempting to find a moral in it will be banished; persons attempting to find a plot will be shot.

~ Mark Twain

All characters and artwork (C)2004-2015 K. Garrison (carryoncomics@hotmail.com) or their original creators.
This web comic site is Powered by Autofox 2.0 Web Comic Automation Software.
Pages created by Carl Foxmarten.