Carry On:
A comic about hyenas – really!
Carry On for Monday, December 7, 2020: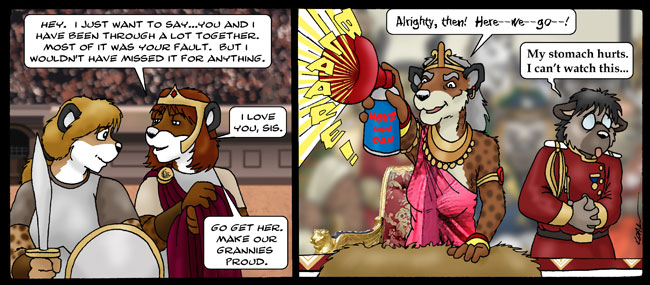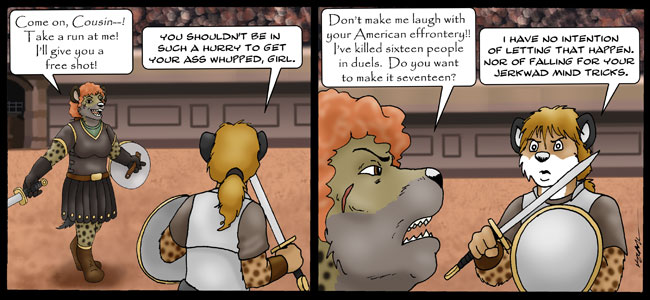 A: Let The Games Begin!

---
Sandy: Hey, I just want to say... you and I have been through a lot together. Most of it was your fault. But I wouldn't have missed it for anything. I love you, Sis. Go get her. Make our grannies proud.

---
(Songween blows and air horn, labeled Noyz Inna Can)
Sfx: BLAARE!
Songween: Alrighty, then! Here— we— go—!
Fred: My stomach hurts. I can't watch this...

---
B: Hit Me With Your Best Shot
---
Jinjur: Come on, Cousin! Take a run at me! I'll give you a free shot!
Kathy: You shouldn't be in such a hurry to get your ass whupped, girl.

---
Jinjur: Don't make me laugh with your American effrontery! I've killed sixteen people in duels. Do you want to make it seventeen?
Kathy: I have no intention of letting that happen. Nor of falling for your jerkwad mind tricks.


Sunday, July 1, 2017:Fred's Diaries

have won first place in this year's

Ursa Major Awards

, in the Best Novel category! Many thanks to everyone who voted for us!

NOTICE: Persons attempting to find a motive in this narrative will be prosecuted; persons attempting to find a moral in it will be banished; persons attempting to find a plot will be shot.

~ Mark Twain

All characters and artwork (C)2004-2015 K. Garrison (carryoncomics@hotmail.com) or their original creators.
This web comic site is Powered by Autofox 2.0 Web Comic Automation Software.
Pages created by Carl Foxmarten.