Carry On:
A comic about hyenas – really!
Carry On for Friday, December 11, 2020: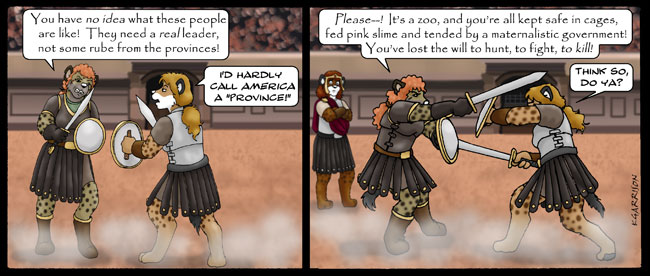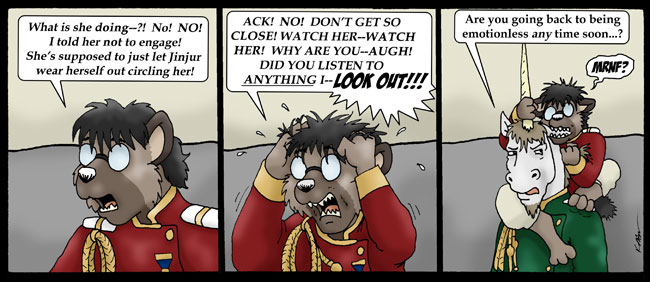 A: Calling America

---
Jinjur: You have no idea what these people are like! They need a real leader, not some rube from the provinces!
Kathy: I'd hardly call America a "province!"

---
Jinjur: Please—! It's a zoo, and you're all kept safe in cages, fed pink slime and tended by a maternalistic government! You've lost the will to hunt, to fight, to kill!
Kathy: Think so, do ya?

---
B: Armchair Quarter Back
---
Fred (watching): What is she doing—?! No! NO! I told her not to engage! She's supposed to just let Jinjur wear herself out circling her!

---
Fred: ACK! NO! DON'T GET SO CLOSE! WATCH HER— WATCH HER! WHY ARE YOU— AUGH! DID YOU LISTEN TO ANYTHING I— LOOK OUT!

---
(Fred climbs on and clings around Horn's neck)
Horn: Are you going back to being emotionless any time soon...?
Fred: MRNF?


Sunday, July 1, 2017:Fred's Diaries

have won first place in this year's

Ursa Major Awards

, in the Best Novel category! Many thanks to everyone who voted for us!

NOTICE: Persons attempting to find a motive in this narrative will be prosecuted; persons attempting to find a moral in it will be banished; persons attempting to find a plot will be shot.

~ Mark Twain

All characters and artwork (C)2004-2015 K. Garrison (carryoncomics@hotmail.com) or their original creators.
This web comic site is Powered by Autofox 2.0 Web Comic Automation Software.
Pages created by Carl Foxmarten.