Carry On:
A comic about hyenas – really!
Carry On for Friday, December 18, 2020: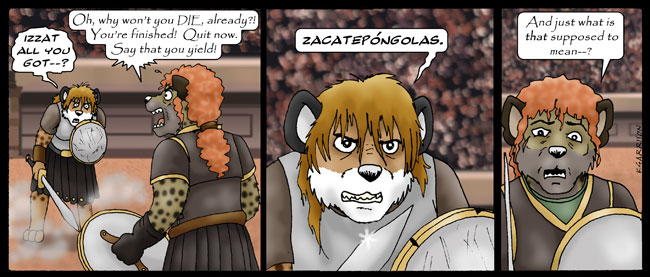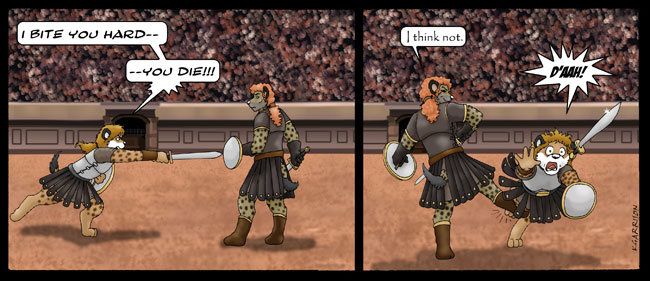 A: Viva Pepe

---
(Kathy's shield is scratched and scuffed and notched)
Kathy: Izzat all you got—?
Jinjur: Oh, why won't you DIE, already? You're finished! Quit now. Say that you yield!

---
Kathy: Zacatepóngolas.

---
Jinjur: And just what is that supposed to mean—?

---
B: Riposte
---
(Kathy thrusts at Jinjur)
Kathy: I bite you hard— you die!!!

---
(Jinjur trips Kathy)
Jinjur: I think not.
Kathy: D'AAH!

---
C: Out Of Luck
---
Announcer: i>Ohh! After a valiant effort, Kathy Grrsn bites the sand! Some days not even your lucky rocketship underpants can help you!
Sfx: BUMF!

---
(Jinjur waves her sword in Kathy's face as she tries to recover her own weapon)
Jinjur: Allow me to introduce myself...

---
(Jinjur stands triumphantly over Kathy)
Jinjur: I am the next Duchess of Rackenroon. Who are you?


Sunday, July 1, 2017:Fred's Diaries

have won first place in this year's

Ursa Major Awards

, in the Best Novel category! Many thanks to everyone who voted for us!

NOTICE: Persons attempting to find a motive in this narrative will be prosecuted; persons attempting to find a moral in it will be banished; persons attempting to find a plot will be shot.

~ Mark Twain

All characters and artwork (C)2004-2015 K. Garrison (carryoncomics@hotmail.com) or their original creators.
This web comic site is Powered by Autofox 2.0 Web Comic Automation Software.
Pages created by Carl Foxmarten.