Carry On:
A comic about hyenas – really!
Carry On for Wednesday, December 9, 2020: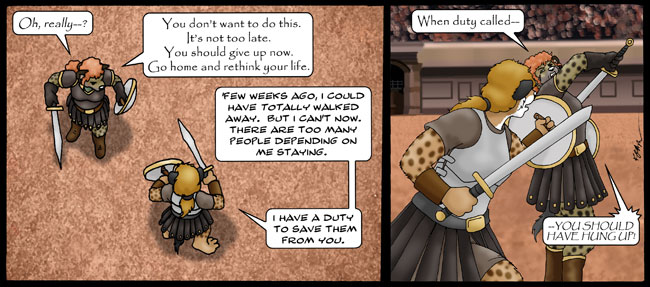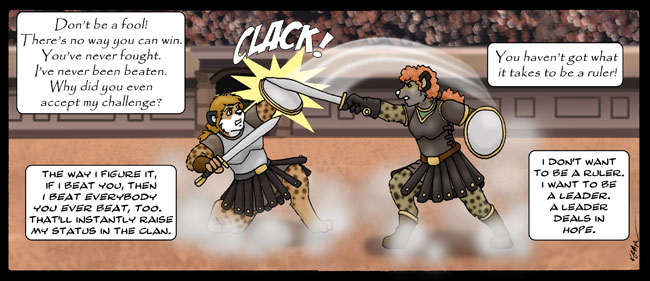 A: Wrong Number

---
Jinjur: Oh, really—? You don't want to do this. It's not too late. You should give up now. Go home and rethink your life.
Kathy: 'Few weeks ago, I could have totally walked away. But I can't now. There are too many people depending on me staying.

---
Jinjur: When duty called— YOU SHOULD HAVE HUNG UP!

---
B: Fearless Leader
---
(Kathy blocks an overhead swing with her shield)
Sfx: CLACK!
Jinjur: Don't be a fool! There's no way you can win. You've never fought. I've never been beaten. Why did you even accept my challenge?
Kathy: The way I figure it, if I beat you, then I beat everybody you ever beat, too. That'll instantly raise my status in the clan.
Jinjur: You haven't got what it takes to be a ruler!
I don't want to be a ruler. I want to be a leader. A leader deals in hope.


Sunday, July 1, 2017:Fred's Diaries

have won first place in this year's

Ursa Major Awards

, in the Best Novel category! Many thanks to everyone who voted for us!

NOTICE: Persons attempting to find a motive in this narrative will be prosecuted; persons attempting to find a moral in it will be banished; persons attempting to find a plot will be shot.

~ Mark Twain

All characters and artwork (C)2004-2015 K. Garrison (carryoncomics@hotmail.com) or their original creators.
This web comic site is Powered by Autofox 2.0 Web Comic Automation Software.
Pages created by Carl Foxmarten.