Carry On:
A comic about hyenas – really!
Carry On for Wednesday, August 26, 2020: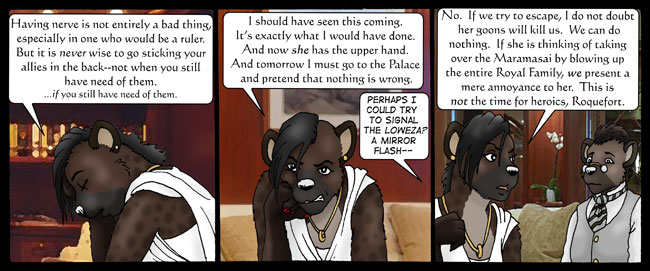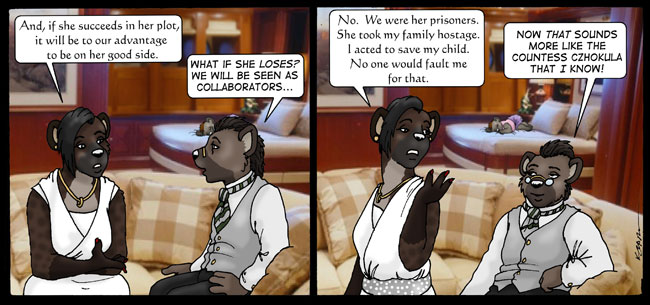 A: Out-Maneuvered

---
CountessCzhokulaHaving nerve is not entirely a bad thing, especially in one who would be a ruler. But it is never wise to go sticking your allies in the back— not when you still have need of them... if you still have need of them.

---
CountessCzhokula: I should have seen this coming. It's exactly what I would have done. And now she has the upper hand. And tomorrow I must go to the Palace and pretend that nothing is wrong.
BaronCzhokula: Perhaps I could try to signal the Loweza? A mirror flash—

---
CountessCzhokula: No. If we try to escape,I do not doubt her goons will kill us. We can do nothing. If she is thinking of taking over the Maramasai by blowing up the entire Royal Family, we present a mere annoyance to her. This is not the time for heroics, Roquefort.

---
B: Snatching Victory
---
CountessCzhokula: And, if she succeeds, it will be to our advantage to be on her good side.
BaronCzhokula: What if she loses? We will be seen as collaborators...

---
CountessCzhokula: No. We were here prisoners. She took my family hostage. I acted to save my child. No one would fault me for that.
BaronCzhokula: Now that sounds more like the Countess Czhokula that I know!


Sunday, July 1, 2017:Fred's Diaries

have won first place in this year's

Ursa Major Awards

, in the Best Novel category! Many thanks to everyone who voted for us!

NOTICE: Persons attempting to find a motive in this narrative will be prosecuted; persons attempting to find a moral in it will be banished; persons attempting to find a plot will be shot.

~ Mark Twain

All characters and artwork (C)2004-2015 K. Garrison (carryoncomics@hotmail.com) or their original creators.
This web comic site is Powered by Autofox 2.0 Web Comic Automation Software.
Pages created by Carl Foxmarten.