Carry On:
A comic about hyenas – really!
Carry On for Friday, July 31, 2020: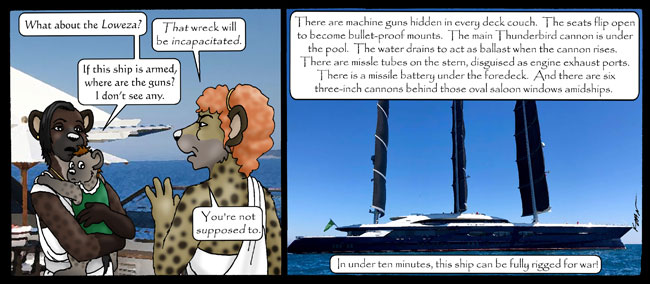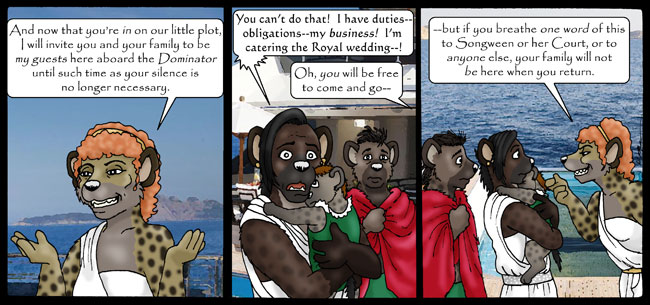 A: Transformer

---
CountessCzhokula: What about the Loweza?
Jinjur: That wreck will be incapacitated.
CountessCzhokula: If this ship is armed, where are the guns? I don't see any.
Jinjur: You're not supposed to.

---
Jinjur: There are machine guns hidden in every deck couch. The seats flip open to become bullet-proof mounts. The main Thunderbird cannon is under the pool. The water drains to act as ballast when the cannon rises. There are missile tubes on the stern, disguised as engine exhaust ports. There is a missile battery under the foredeck. And there are six three-inch cannons behind those oval saloon windows amidships. In under ten minutes, this ship can be fully rigged for war!

---
B: The Devil And The Deep Blue Sea
---
Jinjur: And now that you're in on our little plot, I will invite you and your family to be my guests here about the Dominator until such time as your silence is no longer necessary.

---
CountessCzhokula: You can't do that! I have duties— obligations— my business! I'm catering the Royal wedding—!
Jinjur: Oh, you will be free to come and go—

---
Jinjur: —but if you breathe one word of this to Songween or her Court, or to anyone else, your family will not be here when you return.


Sunday, July 1, 2017:Fred's Diaries

have won first place in this year's

Ursa Major Awards

, in the Best Novel category! Many thanks to everyone who voted for us!

NOTICE: Persons attempting to find a motive in this narrative will be prosecuted; persons attempting to find a moral in it will be banished; persons attempting to find a plot will be shot.

~ Mark Twain

All characters and artwork (C)2004-2015 K. Garrison (carryoncomics@hotmail.com) or their original creators.
This web comic site is Powered by Autofox 2.0 Web Comic Automation Software.
Pages created by Carl Foxmarten.