Carry On:
A comic about hyenas – really!
Carry On for Friday, July 10, 2020: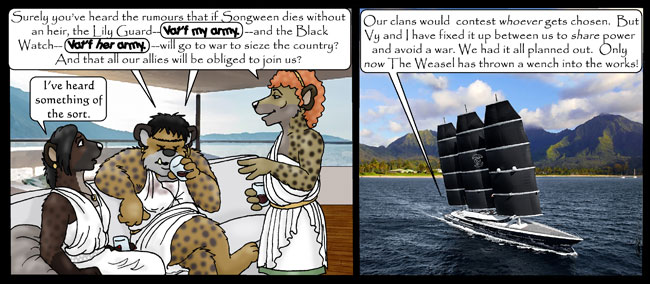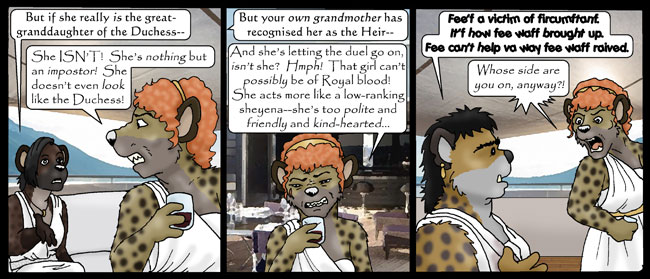 A: Putting A Spin On It

---
Jinjur: Surely you've heard the rumours that if Songween dies without an heir, the Lily Guard—
Vyschuss: Vat'f my army.
Jinjur: —and the Black Watch—
Vyschuss: Vat'f her army.
Jinjur: —will go to war to seize the country? And that all our allies will be obliged to join us?
CountessCzhokula: I've heard something of the sort.

---
Jinjur: Our clans would contest whoever gets chosen. But Vy and I have fixed it up between us to share power and avoid a war. We had it all planned out. Only now the The Weasel has thrown a wench into the works!

---
B: Heredity
---
CountessCzhokulaBut if she really is the great-granddaughter of the Duchess—
Jinjur: She ISN'T! She's nothing but an impostor! She doesn't even look like the Duchess!

---
CountessCzhokula: But your own grandmother has recognized her as the Heir—
Jinjur: And she's letting the duel go on, isn't she? Hmph! That girl can't possibly be of Royal blood! She acts more like a low-ranking sheyena— she's too polite and friendly and kind-hearted...

---
Vyschuss: Fee'f a victim of fircumftanf. It'f how fee waff brought up. Fee can't help va way fee waff raived.
Jinjur: Whose side are you on, anyway?!


Sunday, July 1, 2017:Fred's Diaries

have won first place in this year's

Ursa Major Awards

, in the Best Novel category! Many thanks to everyone who voted for us!

NOTICE: Persons attempting to find a motive in this narrative will be prosecuted; persons attempting to find a moral in it will be banished; persons attempting to find a plot will be shot.

~ Mark Twain

All characters and artwork (C)2004-2015 K. Garrison (carryoncomics@hotmail.com) or their original creators.
This web comic site is Powered by Autofox 2.0 Web Comic Automation Software.
Pages created by Carl Foxmarten.