Carry On:
A comic about hyenas – really!
Carry On for Wednesday, July 15, 2020: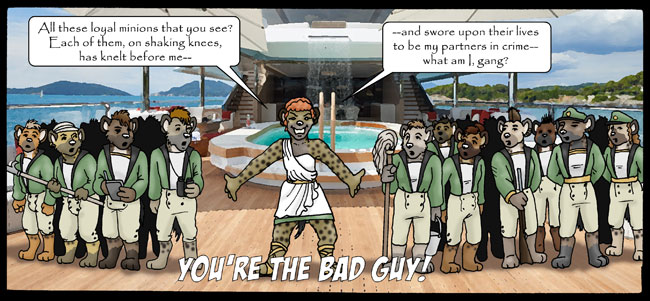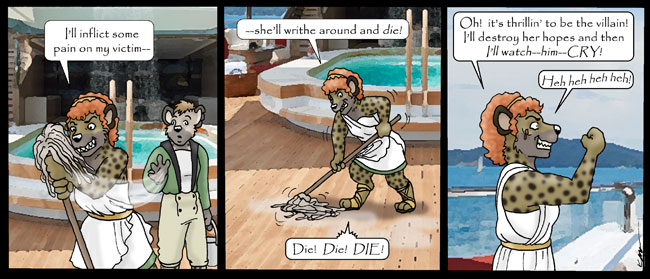 A: Chorus

---
(Jinjur sings, backed up by the ship's crew)
Jinjur (singing): All these loyal minion that you see? Each of them on shaking knees, has knelt before me— and sworn upon their lives to be my partners in crime— what am I, gang?
Everyone: YOU'RE THE BAD GUY!

---
B: Bridge
---
Jinjur (singing): I'll inflict some pain on my victim—

---
Jinjur (singing): —who'll writhe around and die!
Jinjur: Die! Die! DIE!

---
Jinjur (singing): Oh! It's thrillin' to be the villain! I'll destroy her hopes and then I'll watch— him— CRY!
Jinjur: Heh heh heh heh!


Sunday, July 1, 2017:Fred's Diaries

have won first place in this year's

Ursa Major Awards

, in the Best Novel category! Many thanks to everyone who voted for us!

NOTICE: Persons attempting to find a motive in this narrative will be prosecuted; persons attempting to find a moral in it will be banished; persons attempting to find a plot will be shot.

~ Mark Twain

All characters and artwork (C)2004-2015 K. Garrison (carryoncomics@hotmail.com) or their original creators.
This web comic site is Powered by Autofox 2.0 Web Comic Automation Software.
Pages created by Carl Foxmarten.