Carry On:
A comic about hyenas – really!
Carry On for Monday, July 6, 2020: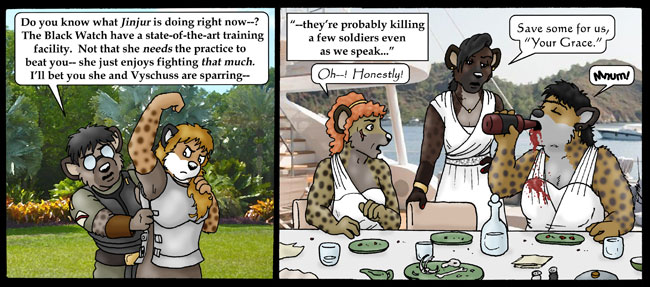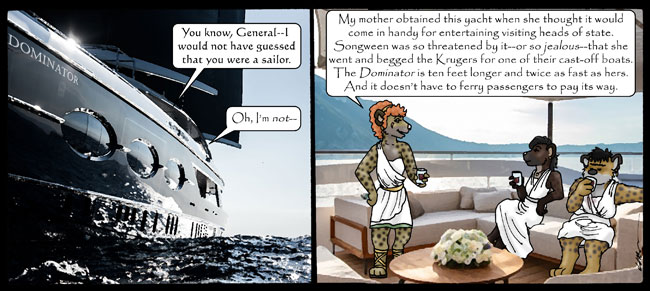 A: Dead Soldiers

---
Fred: Do you know what Jinjur is doing right now—? The Black Watch have a state-of-the-art training facility. Not that she needs the practice to beat you— she just enjoys fighting that much. I'll bet you she and Vyschuss are sparring—

---
Fred: "—they're probably killing a few soldiers even as we speak..."
(We see Jinjur, Vyschuss and the Countess having lunch aboard the Dominator. Vyschuss is demolishing the provisions.)
Jinjur: Oh—! Honestly!
CountessCzhokula: Save some for us, "Your Grace."
Vyschuss: Mnum!

---
B: The Dominator
---
CountessCzhokula: You know, General— I would not have guessed that you were a sailor.
Jinjur: Oh, I'm not—

---
Jinjur: My mother obtained this yacht when she thought it would come in handy for entertaining visiting heads of state. Songween was so threatened by it— or so jealous— that she went and begged the Krugers for one of their cast-off boats. The Dominator is ten feet longer and twice as fast as hers. And it doesn't have to ferry passengers to pay its way.


Sunday, July 1, 2017:Fred's Diaries

have won first place in this year's

Ursa Major Awards

, in the Best Novel category! Many thanks to everyone who voted for us!

NOTICE: Persons attempting to find a motive in this narrative will be prosecuted; persons attempting to find a moral in it will be banished; persons attempting to find a plot will be shot.

~ Mark Twain

All characters and artwork (C)2004-2015 K. Garrison (carryoncomics@hotmail.com) or their original creators.
This web comic site is Powered by Autofox 2.0 Web Comic Automation Software.
Pages created by Carl Foxmarten.