Carry On:
A comic about hyenas – really!
Carry On for Monday, July 20, 2020: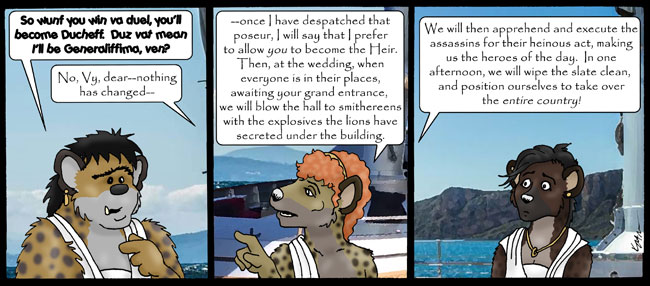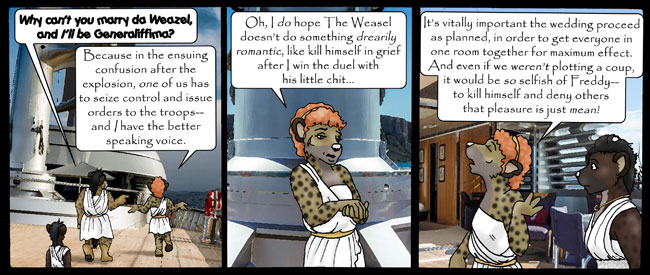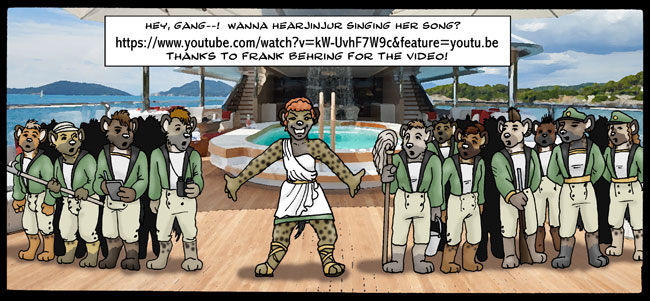 A: Do What, Now?
---
Vyschuss: So wunf you win va duel, you'' become Ducheff. Duz vat mean I'll be Generaliffima, ven?
Jinjur: No, Vy, dear— nothing has changed—
---
Jinjur: —once I have despatched that poseur, I will say that I prefer to allow
you
to become the Heir. Then, at the weeding, when everyone is in their places, awaiting your grand entrance, we will blow the hall to smithereens with the explosives the lions have secreted under the building.
---
Jinjur: We will then apprehend and execute the assassins for their heinous act, making us the heroes of the day. In one afternoon, we will wipe the slate clean, and position ourselves to take over the
entire country!
---
B: Suicide Is Mean
---
Vyschuss: Why can't you marry da Weazel, and I'll be Generaliffima?
Jinjur: Because in the ensuing confusion after the explosion, one of us has to seize control and issue orders to the troops— and
I
have the better speaking voice.
---
Jinjur: Oh, I
do
hope The Weasel doesn't do something
drearily romantic,
like kill himself in grief after I win the duel with his little chit...
---
Jinjur: It's vitally important the wedding proceed as planned, in order to get everyone in one room together for maximum effect. And even if we
weren't
plotting a coup, it would be so selfish of Freddy— to kill himself and deny others that pleasure is just
mean!
---
C:
---
Author: Hey, gang—! Wanna hear Jinjur singing her song?
https://www.youtube.com/watch?v=kW-UvhF7W9c&feature=youtu.be
Thanks to Frank Behring for the video!
Sunday, July 1, 2017:
Fred's Diaries
have won first place in this year's
Ursa Major Awards
, in the Best Novel category! Many thanks to everyone who voted for us!
NOTICE: Persons attempting to find a motive in this narrative will be prosecuted; persons attempting to find a moral in it will be banished; persons attempting to find a plot will be shot.
~ Mark Twain
All characters and artwork (C)2004-2015 K. Garrison (carryoncomics@hotmail.com) or their original creators.
This web comic site is Powered by Autofox 2.0 Web Comic Automation Software.
Pages created by Carl Foxmarten.