Carry On:
A comic about hyenas – really!
Carry On for Monday, March 20, 2017: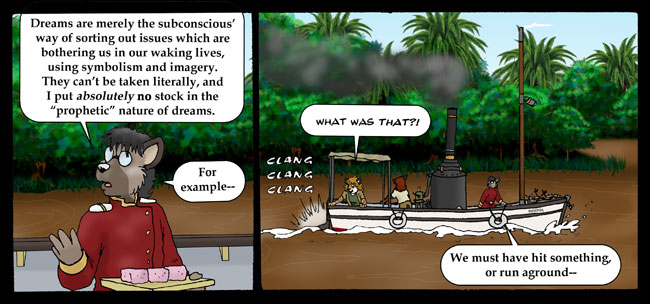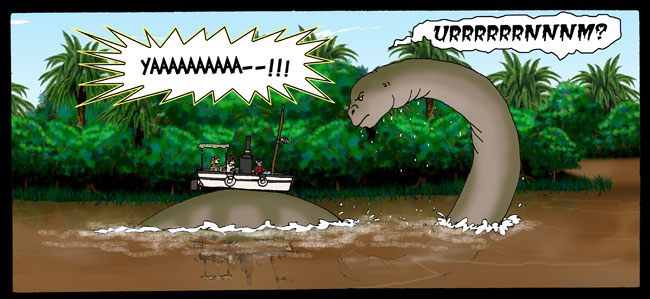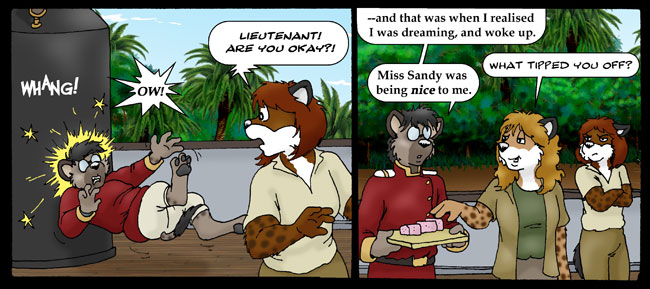 A: Deny—?

---
Fred: Dreams are merely the subconscious' way of sorting out issues which are bothering us in our waking lives, using symbolism and imagery. They can't be taken literally, and I put absolutely no stock in the "prophetic" nature of dreams. For example—

---
Sfx: Clang Clang Clang
Kathy: What was that?!
Fred: We must have hit something, or run aground—

---
B: No!
---
Fred & Sandy & Kathy: YAAAAAAAAAA—!!!
SeaMonster: URRRRRRNNNM?

---
C: Sore
---
Sfx: WHANG!
Fred: Ow!
Sandy: Lieutenant! Are you okay?!

---
Fred: —and that was when I realized I was dreaming, and woke up.
Kathy: What tipped you off?
Fred: Miss Sandy was being nice to me.


Sunday, July 1, 2017:Fred's Diaries

have won first place in this year's

Ursa Major Awards

, in the Best Novel category! Many thanks to everyone who voted for us!

NOTICE: Persons attempting to find a motive in this narrative will be prosecuted; persons attempting to find a moral in it will be banished; persons attempting to find a plot will be shot.

~ Mark Twain

All characters and artwork (C)2004-2015 K. Garrison (carryoncomics@hotmail.com) or their original creators.
This web comic site is Powered by Autofox 2.0 Web Comic Automation Software.
Pages created by Carl Foxmarten.