Carry On:
A comic about hyenas – really!
Carry On for Friday, April 7, 2017: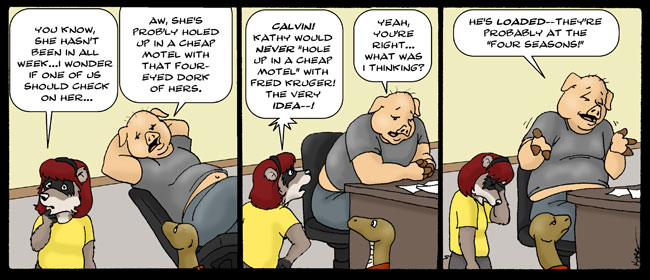 In A Cheap Motel

---
Helen: You know, she hasn't been in all week... I wonder if one of us should check on her...
Calvin: Aw, She's prob'ly holed up in a cheap motel with that four-eyed dork of hers.

---
Helen: Calvin! Kathy would never "hole up in a cheap motel" with Fred Kruger! The very idea—!
Calvin: Yeah, you're right... What was I thinking?

---
Calvin: He's loaded— They're probably at the "Four Seasons!"


Sunday, July 1, 2017:Fred's Diaries

have won first place in this year's

Ursa Major Awards

, in the Best Novel category! Many thanks to everyone who voted for us!

NOTICE: Persons attempting to find a motive in this narrative will be prosecuted; persons attempting to find a moral in it will be banished; persons attempting to find a plot will be shot.

~ Mark Twain

All characters and artwork (C)2004-2015 K. Garrison (carryoncomics@hotmail.com) or their original creators.
This web comic site is Powered by Autofox 2.0 Web Comic Automation Software.
Pages created by Carl Foxmarten.