Carry On:
A comic about hyenas – really!
Carry On for Wednesday, March 15, 2017: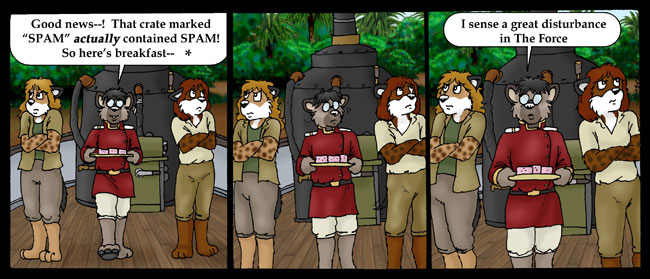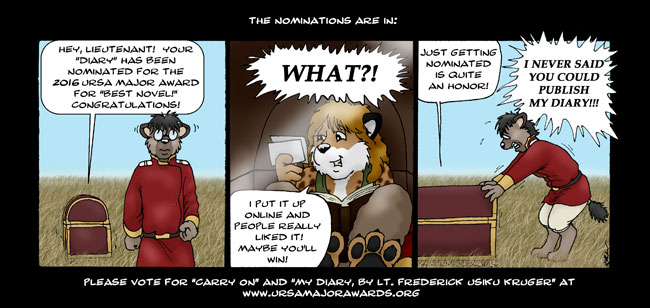 A: A Sudden Chill In The Air

---
Fred: Good news—! That crate marked "SPAM" actually contained SPAM! So here's breakfast— *

---
(silence)

---
Fred: I sense a great disturbance in The Force.

---
B: Better To Beg Forgiveness...
---
Caption: The Nominations Are In!

---
Hey, Lieutenant! Your "Diary" has been nominated for the 2016 Ursa Major Award for "Best Novel!" Congratulations!

---
Fred: WHAT?!
Kathy: I put it up online and people really liked it! Maybe you'll win!

---
Kathy: Just getting nominated is quite an honor!
Fred: I never said you could publish my diary!!!

---
Caption: Please vote for "Carry On" and "My Diary, By Lt. Frederick Usiku Kruger" at www.ursamajorawards.org


Sunday, July 1, 2017:Fred's Diaries

have won first place in this year's

Ursa Major Awards

, in the Best Novel category! Many thanks to everyone who voted for us!

NOTICE: Persons attempting to find a motive in this narrative will be prosecuted; persons attempting to find a moral in it will be banished; persons attempting to find a plot will be shot.

~ Mark Twain

All characters and artwork (C)2004-2015 K. Garrison (carryoncomics@hotmail.com) or their original creators.
This web comic site is Powered by Autofox 2.0 Web Comic Automation Software.
Pages created by Carl Foxmarten.