Carry On:
A comic about hyenas – really!
Carry On for Wednesday, April 5, 2017: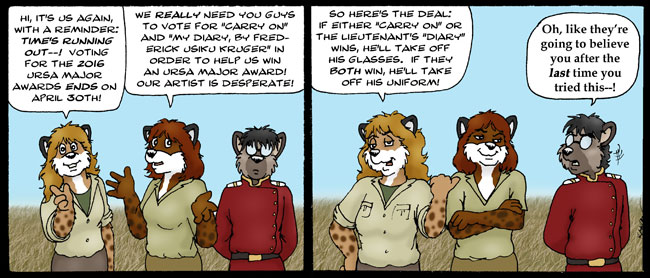 A: New Yakity Sax

---
Caption: Meanwhile, in case you were wondering—.

---
Wolflynx: It's awfully quiet in here.
Calvin: Spots ain't here.
Loxley: That's it!

---
B:
---
Kathy: Hi, it's us again, with a reminder: Time's running out—! Voting for the 2016 Ursa Major awards ends on April 30th!
Sandy: We really need you guys to vote for "Carry On" and "My Diary, by Frederick Usiku Kruger" in order to help us win an Ursa Major award! Our artist is desperate!

---
Kathy: So here's the deal: if either "Carry On" or the lieutenant's "Diary" wins, he'll take off his glasses. If they both win, he'll take off his uniform!
Fred: Oh, like they're going to believe you after the last time you tried this—!


Sunday, July 1, 2017:Fred's Diaries

have won first place in this year's

Ursa Major Awards

, in the Best Novel category! Many thanks to everyone who voted for us!

NOTICE: Persons attempting to find a motive in this narrative will be prosecuted; persons attempting to find a moral in it will be banished; persons attempting to find a plot will be shot.

~ Mark Twain

All characters and artwork (C)2004-2015 K. Garrison (carryoncomics@hotmail.com) or their original creators.
This web comic site is Powered by Autofox 2.0 Web Comic Automation Software.
Pages created by Carl Foxmarten.