Carry On:
A comic about hyenas – really!
Carry On for Monday, April 3, 2017: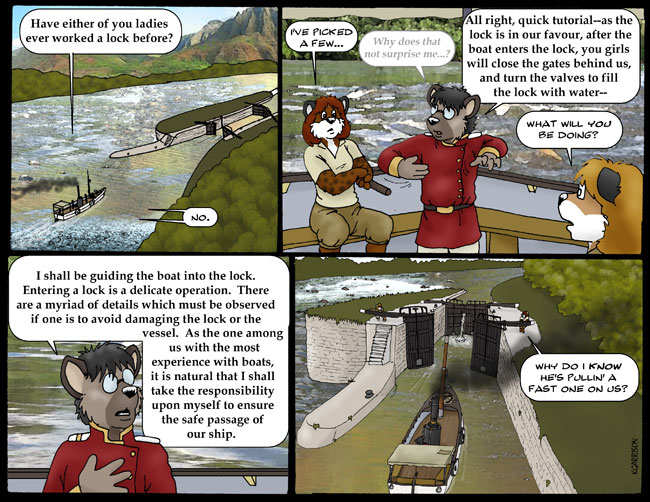 Taking Responsibility

---
Fred: Have either of you ladies ever worked a lock before?
Kathy & Sandy: No.

---
Sandy: I've picked a few...
Fred: Why does that not surprise me...?
Fred: All right, quick tutorial— as the lock is in our favour, after the boat enters the lock, you girls will close the gates behind us, and turn the valves to fill the lock with water—
Kathy: What will you be doing?

---
Fred: I shall be guiding the boat into the lock. Entering a lock is a delicate operation. There are a myriad of details which must be observed if one is to avoid damaging the lock or the vessel. As the one among us with the most experience with boats, it is natural that I shall take the responsibility upon myself to ensure the safe passage of our ship.

---
Sandy: Why do I know he's pullin' a fast one on us?


Sunday, July 1, 2017:Fred's Diaries

have won first place in this year's

Ursa Major Awards

, in the Best Novel category! Many thanks to everyone who voted for us!

NOTICE: Persons attempting to find a motive in this narrative will be prosecuted; persons attempting to find a moral in it will be banished; persons attempting to find a plot will be shot.

~ Mark Twain

All characters and artwork (C)2004-2015 K. Garrison (carryoncomics@hotmail.com) or their original creators.
This web comic site is Powered by Autofox 2.0 Web Comic Automation Software.
Pages created by Carl Foxmarten.