Carry On:
A comic about hyenas – really!
Carry On for Friday, November 25, 2016: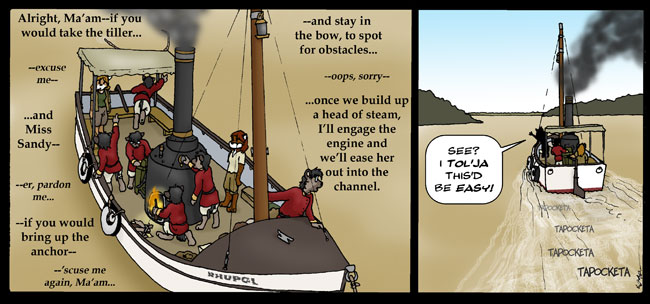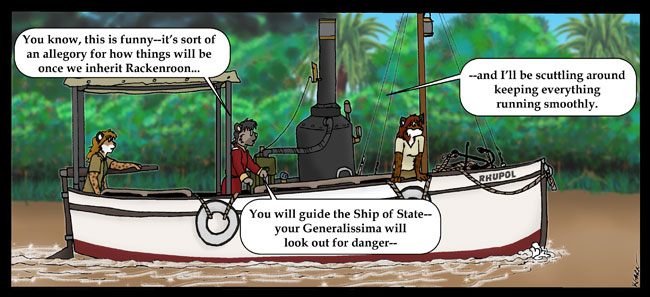 A: Make It Look Easy

---
Fred: Alright, Ma'am— if you would take the tiller...
Fred: —excuse me—
Fred: ...and Miss Sandy—
Fred: —er, pardon me...
Fred: —if you would bring up the anchor—
Fred: —'scuse me again, Ma'am...
Fred: —and stay in the bow, to spot for obstacles...
Fred: —oops, sorry—
Fred: ...once we build up a head of steam, I'll engage the engine and we'll ease her out into the channel.

---
Sandy: See? I tol'ja this'd be easy!
Sfx: TAPOCKETA TAPOCKETA TAPOCKETA TAPOCKETA

---
B: ...Three Hyenas In A Tub
---
Fred: You know, this is funny— it's sort of an allegory for how things will be once we inherit Rackenroon... You will guide the Ship of State— your Generalissima will look out for danger— and I'll be scuttling around keeping everything running smoothly.


Sunday, July 1, 2017:Fred's Diaries

have won first place in this year's

Ursa Major Awards

, in the Best Novel category! Many thanks to everyone who voted for us!

NOTICE: Persons attempting to find a motive in this narrative will be prosecuted; persons attempting to find a moral in it will be banished; persons attempting to find a plot will be shot.

~ Mark Twain

All characters and artwork (C)2004-2015 K. Garrison (carryoncomics@hotmail.com) or their original creators.
This web comic site is Powered by Autofox 2.0 Web Comic Automation Software.
Pages created by Carl Foxmarten.