Carry On:
A comic about hyenas – really!
Carry On for Monday, November 14, 2016: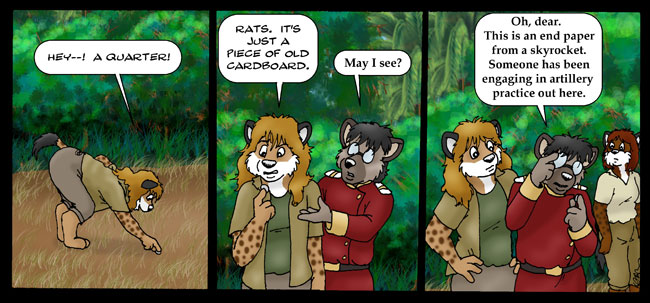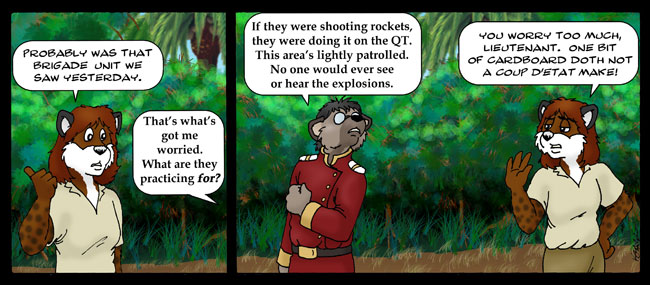 A: See A Quarter...

---
Kathy: Hey—! A quarter!

---
Kathy: Rats. It's just a piece of old cardboard.
Fred: May I see?

---
Fred: Oh, dear. This is an end paper from a skyrocket. Someone has been engaging in artillery practice out here.

---
B: ...Drop A Dime
---
Sandy: Probably was that Brigade unit we saw yesterday.
Fred: That's what's got me worried. What are they practicing for?

---
Fred: If there were shooting rockets, they were doing it on the QT. This area's lightly patrolled. No one would ever see or hear the explosions.
Sandy: You worry too much, Lieutenant. One bit of cardboard doth not a coup d'etat make!


Sunday, July 1, 2017:Fred's Diaries

have won first place in this year's

Ursa Major Awards

, in the Best Novel category! Many thanks to everyone who voted for us!

NOTICE: Persons attempting to find a motive in this narrative will be prosecuted; persons attempting to find a moral in it will be banished; persons attempting to find a plot will be shot.

~ Mark Twain

All characters and artwork (C)2004-2015 K. Garrison (carryoncomics@hotmail.com) or their original creators.
This web comic site is Powered by Autofox 2.0 Web Comic Automation Software.
Pages created by Carl Foxmarten.