Carry On:
A comic about hyenas – really!
Carry On for Friday, December 9, 2016: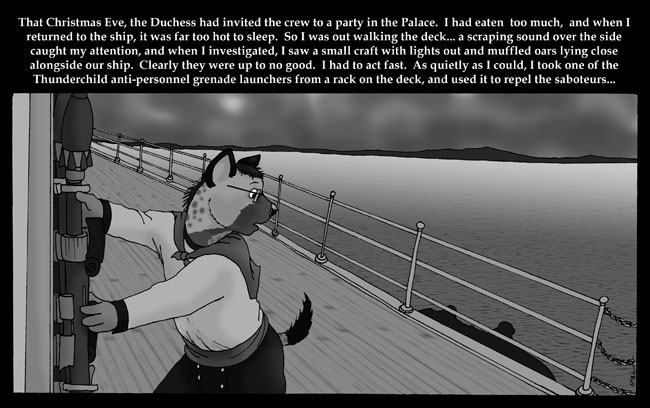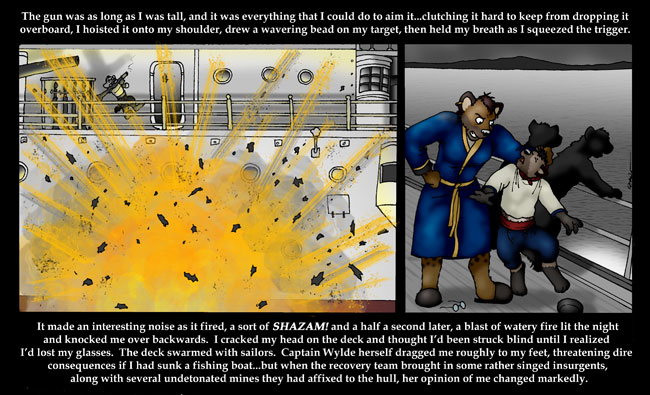 A: The Thunderchild

---
Fred: That Christmas Eve, the Duchess had invited the crew to a party in the Palace. I had eaten too much, and when I returned to the ship, it was far too hot to sleep. So I was out walking the deck... a scraping sound over the side caught my attention, and when I investigated, I saw a small craft with lights out and muffled oars lying close alongside our ship. Clearly they were up to no good. I had to act fast. As quietly as I could, I took one of the Thunderchild anti-personnel grenade launchers from a rack on the deck, and used it to repel the saboteurs...

---
B: Lighting Up The Night
---
Fred: The gun was as long as I was tall, and it was everything that I could do to aim it... clutching it hard to keep from dropping it overboard, I hoisted it onto my shoulder, drew a wavering bead on my target, then held my breath as I squeezed the trigger.

---
Fred: It made an interesting noise as it fired, a sort of SHAZAM! and half a second later, a blast of watery fire lit the night and knocked me over backwards. I cracked my head on the deck and I thought I'd been struck blind until I realized I'd lost my glasses. The deck swarmed with sailors. Captain Wylde herself dragged me roughly to my feet, threatening dire consequences if I had sunk a fishing boat... but when the recovery team brought in some rather singed insurgents, along with several undetonated mines they had affixed to the hull, her opinion of me changed markedly.


Sunday, July 1, 2017:Fred's Diaries

have won first place in this year's

Ursa Major Awards

, in the Best Novel category! Many thanks to everyone who voted for us!

NOTICE: Persons attempting to find a motive in this narrative will be prosecuted; persons attempting to find a moral in it will be banished; persons attempting to find a plot will be shot.

~ Mark Twain

All characters and artwork (C)2004-2015 K. Garrison (carryoncomics@hotmail.com) or their original creators.
This web comic site is Powered by Autofox 2.0 Web Comic Automation Software.
Pages created by Carl Foxmarten.