Carry On:
A comic about hyenas – really!
Carry On for Wednesday, November 9, 2016: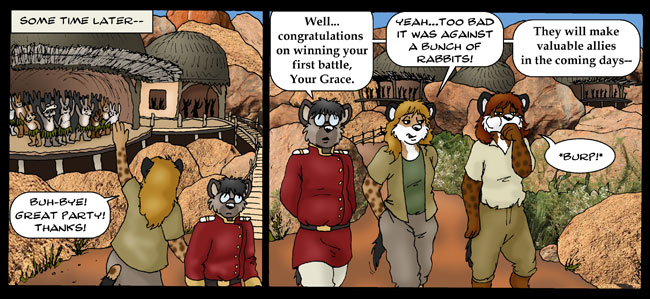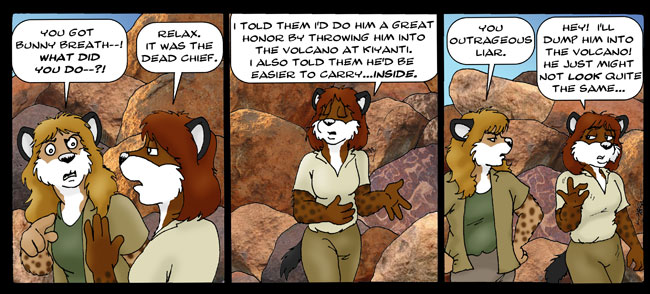 A: What A Party!

---
Caption: Some Time Later—
Kathy: Buh-Bye! Great Party! Thanks!

---
Fred: Well... congratulations on winning your first battle, Your Grace.
Kathy: Yeah... too bad it was against a bunch of rabbits!
Fred: They will make valuable allies in the coming days—
Sandy: *BURP!*

---
B: Joining The Ancestors
---
Kathy: You got bunny breath—! What did you DO—?!
Sandy: Relax. It was the dead chief.

---
Sandy: I told them I'd do him a great honor by throwing him into the volcano at Kiyanti. I also told them he'd be easier to carry... inside.

---
Kathy: You outrageous liar.
Sandy: Hey! I'll dump him into the volcano! He just might not look quite the same...


Sunday, July 1, 2017:Fred's Diaries

have won first place in this year's

Ursa Major Awards

, in the Best Novel category! Many thanks to everyone who voted for us!

NOTICE: Persons attempting to find a motive in this narrative will be prosecuted; persons attempting to find a moral in it will be banished; persons attempting to find a plot will be shot.

~ Mark Twain

All characters and artwork (C)2004-2015 K. Garrison (carryoncomics@hotmail.com) or their original creators.
This web comic site is Powered by Autofox 2.0 Web Comic Automation Software.
Pages created by Carl Foxmarten.