Carry On:
A comic about hyenas – really!
Carry On for Friday, November 11, 2016: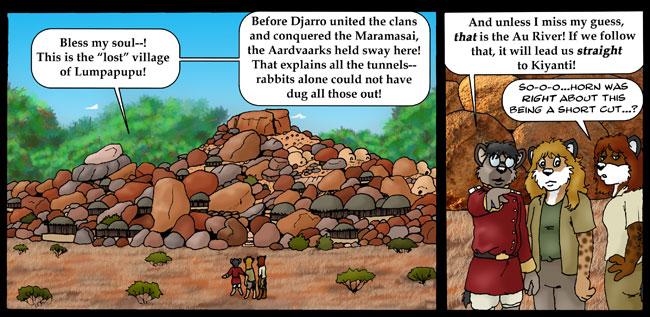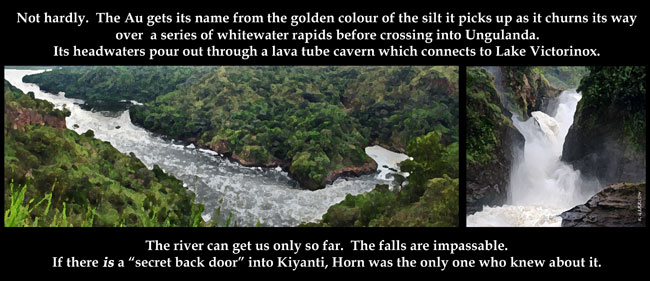 A: Sudden Realization

---
Fred: Bless my soul—! This is the "lost" village of Lumpapupu! Before Djarro united the clans and conquered the Maramasai, the Aardvarks held sway here! That explains all the tunnels— rabbits alone could not have dug all those out!

---
Fred: And unless I miss my guess, that is the Au River! If we follow that, it will lead us straight to Kiyanti!
Sandy: So-o-o... Horn was right about this being a short cut...?

---
B: Follow The River
---
Fred: Not hardly. The Au gets its name from the golden colour of the silt it picks up as it churns its way over a series of whitewater rapids before crossing into Ungulanda. Its headwaters pour out through a lava tube cavern which connects to Lake Victorinox.

---
Fred: The river can get us only so far. The falls are impassable. If there is a 'secret back door" into Kiyanti, Horn was the only one who knew about it.


Sunday, July 1, 2017:Fred's Diaries

have won first place in this year's

Ursa Major Awards

, in the Best Novel category! Many thanks to everyone who voted for us!

NOTICE: Persons attempting to find a motive in this narrative will be prosecuted; persons attempting to find a moral in it will be banished; persons attempting to find a plot will be shot.

~ Mark Twain

All characters and artwork (C)2004-2015 K. Garrison (carryoncomics@hotmail.com) or their original creators.
This web comic site is Powered by Autofox 2.0 Web Comic Automation Software.
Pages created by Carl Foxmarten.