Carry On:
A comic about hyenas – really!
Carry On for Monday, November 23, 2020: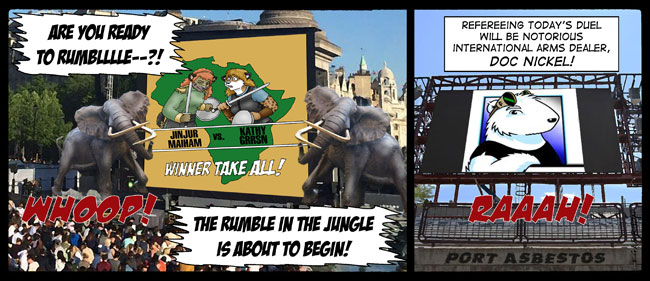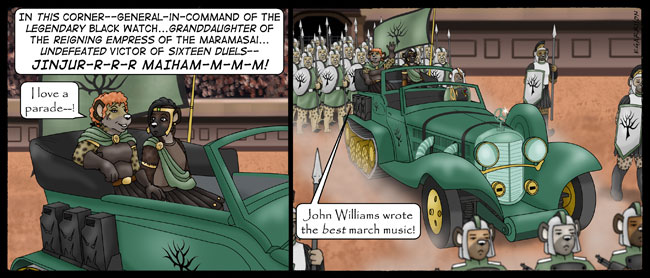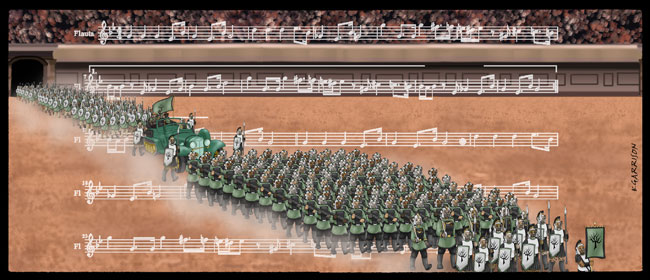 A: Jumbo-Tron

---
TV: Jinjur Maiham vs. Kathy Grrsn
TV: WINNER TAKE ALL!
Announcer: ARE YOU READY TO RUMBLLLLE—?!
Crowd: WHOOP!
Announcer: THE RUMBLE IN THE JUNGLE IS ABOUT TO BEGIN!

---
Announcer: Refereeing today's duel will be notorious international arms dealer, Doc Nickel!
Crowd: RAAAH!
Sign: Port Asbestos

---
B: I Love A Parade
---
(Jinjur and Countess Czhokula enter the arena in a Black Watch limousine, flanked by soldiers)
Announcer: In this corner— General-in-Command of the legendary Black Watch... Granddaughter of the Reigning Empress of the Maramasai... Undefeated victor of sixteen duels— JINHUR-R-R-R MAIHAM-M-M-M!
Jinjur: I love a parade!

---
Jinjur: John Williams wrote the best march music!

---
C: Impressive
---
(Jinjur's troops and her limo enter to the Imperial March from Star Wars)


Sunday, July 1, 2017:Fred's Diaries

have won first place in this year's

Ursa Major Awards

, in the Best Novel category! Many thanks to everyone who voted for us!

NOTICE: Persons attempting to find a motive in this narrative will be prosecuted; persons attempting to find a moral in it will be banished; persons attempting to find a plot will be shot.

~ Mark Twain

All characters and artwork (C)2004-2015 K. Garrison (carryoncomics@hotmail.com) or their original creators.
This web comic site is Powered by Autofox 2.0 Web Comic Automation Software.
Pages created by Carl Foxmarten.