Carry On:
A comic about hyenas – really!
Carry On for Friday, December 23, 2016: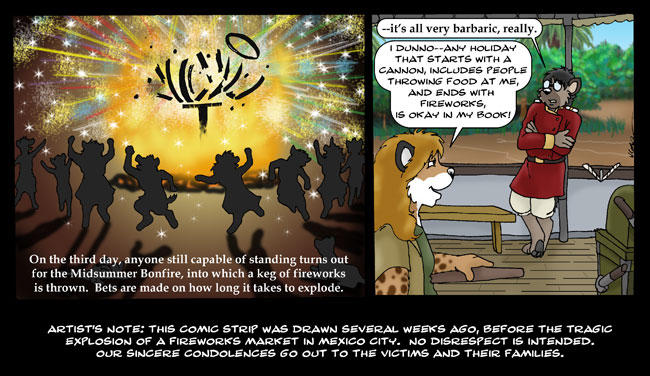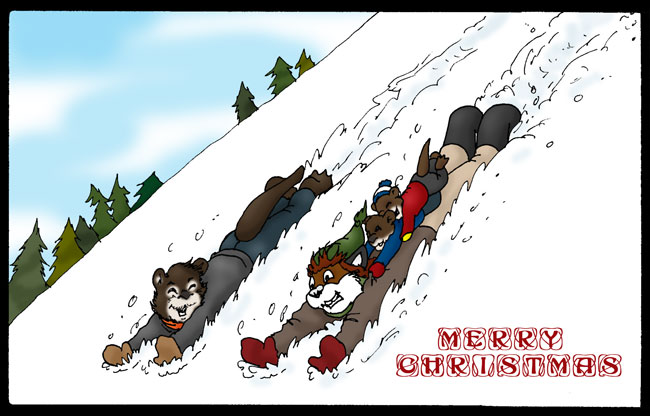 A: With A Bang And A Boom

---
Fred: On the third day, anyone still capable of standing turns out for the Midsummer Bonfire, into which a keg of fireworks is thrown. Bets are made on how long it takes to explode.

---
Fred: —it's all very barbaric, really.
Kathy: I dunno— any holiday that starts with a cannon, includes people throwing food at me, and ends with fireworks, is okay in my book!

---
Artist's Note: This comic strip was drawn several weeks ago, before the tragic explosion of a fireworks market in Mexico City. No disrespect is intended. Our sincere condolences go out to the victims and their families.

---
B: Merry Christmas
---
Caption: Merry Christmas


Sunday, July 1, 2017:Fred's Diaries

have won first place in this year's

Ursa Major Awards

, in the Best Novel category! Many thanks to everyone who voted for us!

NOTICE: Persons attempting to find a motive in this narrative will be prosecuted; persons attempting to find a moral in it will be banished; persons attempting to find a plot will be shot.

~ Mark Twain

All characters and artwork (C)2004-2015 K. Garrison (carryoncomics@hotmail.com) or their original creators.
This web comic site is Powered by Autofox 2.0 Web Comic Automation Software.
Pages created by Carl Foxmarten.