Carry On:
A comic about hyenas – really!
Carry On for Wednesday, December 21, 2016: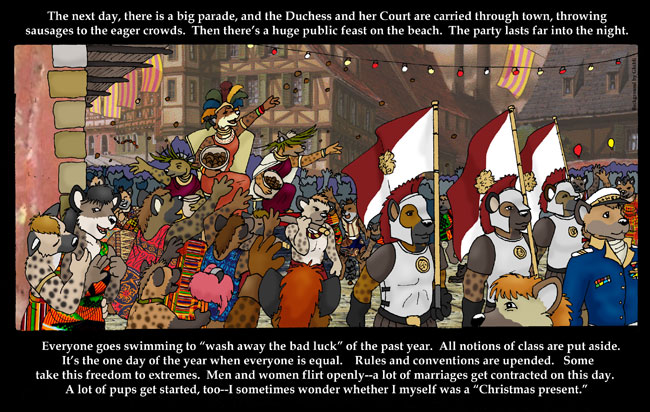 Swords And Sausages

---
Fred: The next day, there is a big parade, and the Duchess and her Court are carried through town, throwing sausages to the eager crowds. Then there's a huge public feast on the beach. The party lasts far into the night.

---
Fred: Everyone goes swimming to "wash away the bad luck" of the past year.All notions of class are put aside. It's the one day of the year when everyone is equal. Rules and conventions are upended. Some take this freedom to extremes. Men and women flirt openly— a lot of marriages get contracted on this day. A lot of pups get started, too— I sometimes wonder whether I myself was a "Christmas present."


Sunday, July 1, 2017:Fred's Diaries

have won first place in this year's

Ursa Major Awards

, in the Best Novel category! Many thanks to everyone who voted for us!

NOTICE: Persons attempting to find a motive in this narrative will be prosecuted; persons attempting to find a moral in it will be banished; persons attempting to find a plot will be shot.

~ Mark Twain

All characters and artwork (C)2004-2015 K. Garrison (carryoncomics@hotmail.com) or their original creators.
This web comic site is Powered by Autofox 2.0 Web Comic Automation Software.
Pages created by Carl Foxmarten.