Carry On:
A comic about hyenas – really!
Carry On for Wednesday, January 4, 2017: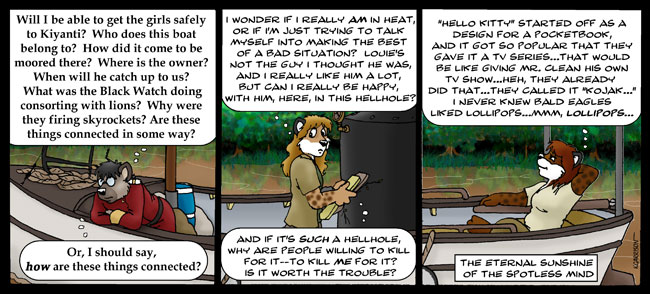 Deep Thoughts

---
Fred (thinking): Will I be able to get the girls safely to Kiyanti? Who does this boat belong to? How did it come to be moored there? Where is the owner? When will he catch up to us? What was the Black Watch doing consorting with lions? Why were they firing skyrockets? Are these things connected in some way? Or, should I say, how are these things connected?

---
Kathy (thinking): I wonder if I really am in heat, or if I'm just trying to talk myself into making the best of a bad situation? Louie's not the guy I thought he was, and I really like him a lot, but can I really be happy, with him, in this hellhole? And if it's such a hellhole, why are people willing to kill for it— to kill me for it? Is it worth the trouble?

---
Sandy (thinking): "Hello Kitty" started off as a design for a pocketbook, and it got so popular that they gave it a TV series... That would be like giving Mr. Clean his own TV show... Heh, they already did that... they called it "Kojak..." I never knew bald eagles liked lollipops... MMM, lollipops...

Caption: The Eternal Sunshine of the Spotless Mind


Sunday, July 1, 2017:Fred's Diaries

have won first place in this year's

Ursa Major Awards

, in the Best Novel category! Many thanks to everyone who voted for us!

NOTICE: Persons attempting to find a motive in this narrative will be prosecuted; persons attempting to find a moral in it will be banished; persons attempting to find a plot will be shot.

~ Mark Twain

All characters and artwork (C)2004-2015 K. Garrison (carryoncomics@hotmail.com) or their original creators.
This web comic site is Powered by Autofox 2.0 Web Comic Automation Software.
Pages created by Carl Foxmarten.