Carry On:
A comic about hyenas – really!
Carry On for Monday, July 26, 2004: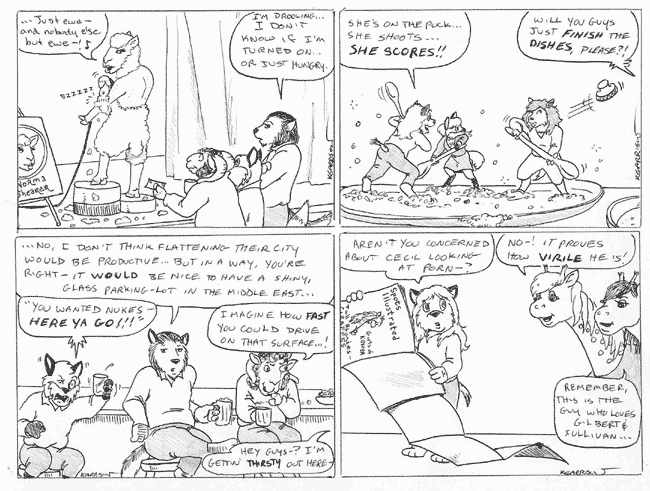 Norma Shearer: ...Just ewe- and nobody else but ewe-!
Keith: I'm drooling... I don't know if I'm turned on... or just hungry.

---
Kathy: She's on the puck... She shoots... She scores!!
Beth: Will you guys just finish the dishes, please?!

---
Keith: ...No, I don't think flattening their city would be productive... But in a way, you're right, it would be nice to have a shiny, glass parking-lot in the Middle East...
Jack: "You wanted nukes - HERE YA GO!!!"
Allen: Imagine how fast you could drive on that surface...!
Cecil: Hey guys-? I'm gettin' thirsty out here-

---
Kathy: Aren't you concerned about Cecil looking at porn-?
Beth: No-! It proves how virile he is!
Barb: Remember, this is the guy who loves Gilbert & Sullivan...
Magazine: Spots Illustrated. Girls from Kenya. Tall Blondes - Giraffes.


Sunday, July 1, 2017:Fred's Diaries

have won first place in this year's

Ursa Major Awards

, in the Best Novel category! Many thanks to everyone who voted for us!

NOTICE: Persons attempting to find a motive in this narrative will be prosecuted; persons attempting to find a moral in it will be banished; persons attempting to find a plot will be shot.

~ Mark Twain

All characters and artwork (C)2004-2015 K. Garrison (carryoncomics@hotmail.com) or their original creators.
This web comic site is Powered by Autofox 2.0 Web Comic Automation Software.
Pages created by Carl Foxmarten.